After watching Brick, I couldn't avoid developing an interpretation of it related to American matriarchy's roots. That Brick is a twisted noir genre story notwithstanding, the plot is constantly sprayed in cold surrealism, so on to my allegorical interpretation of Brick.
For me, the character of Laura (Nora Zehetner) would be the enigmatic "Fatale Princess" who turns into a matriarchate figure. Why? Because translating their symbolic roles, Tug's (Noah Fleiss) character would stand for Strength (Physical), The Pin (Lukas Haas) would stand for Decadence, and Brad Bramish (Brian White) would stand for Status/Social Power. And thinking about it, Laura owns these three qualities by herself: Strength (she has a bright mind), Decadence (that comes from her sexual manipulation/politics), and Status/Social Power, too — she hosts exclusive parties and "knows everybody" in town. Therefore Laura is destinated to be the only winner in the drug ring of San Clemente, until... Brendan enters her world because he is looking for Emily/for vengeance/for truth.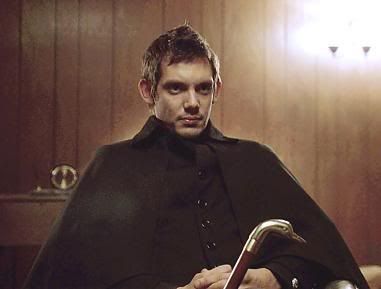 And in the end the only winner is Brendan (a moral winner?), although he keeps being an outcast/loser. Why? Because he keeps not accepting the truth he has found out. Inferring some of Rian Johnson's script subtleties, I see Brendan as the antihero who lives disconnected from the real world, because he despises it, not because he fears it. I think Brain (Matt O'Leary) plays the role of Brendan's rational well-oiled mind, the part that prevents Brendan from having an emotional collapse and promotes his survival.
When did Brendan get disconnected from real world? Probably, after ending his association with Kara (Meagan Good), whom his rational side - The Brain - qualifies as "the evil one", Brendan constructed a mental refuge for distancing himself from female dangers. Somehow, his early freshman days spent with Kara provoked in Brendan a personality split, the reason why he eats lunch behind the school, "not liking anybody" as Emily reproaches him. He's practically immune to Laura's manipulation because he suffers from a "schizo" process after being exposed to an evil feminine universe.
Kara and Dode (Noah Segan) are satellite characters in the story. On one hand Kara stands for Decadence (although minor compared with The Pin's or Laura's) and Dode stands for a minor Decadence (the consequence of his drug consumption), but while Decadence makes Kara strong, it makes Dode weak.