Two weeks ago, Chris Daughtry stated that he wasn't too familiar with Stevie Wonder's catalogue. But when he saw it contained a song called "Higher Ground," he remembered that the Red Hot Chili Peppers had done a version of the song and immediately decided to sing it. The judges praised Chris for being original and his performance was regarded as one of the best of the night (and it was).
The controversy came when message boards and blogs went a buzz about how it was unfair for Chris to be able to simply sing the Chili Peppers' arrangement of the song (which was obviously a more rock arrangement — different from Stevie's original soul/R&B arrangement) and get praised. Not just praised for a great performance — but for being original. This wasn't that big a deal however, considering that Chris mentioned the fact that he was singing the Chili Peppers' version in his pre-performance interview, so it was no surprise that they sounded quite similar.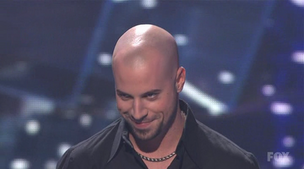 So last week, when the contestants heard the theme was music from the 50s, sexy alterna-rocker Chris picked Johnny Cash's hit song "I Walk The Line." It's a pretty prominent song in the country community, but most of us know the song because of the Academy Award nominated hit film of a similar name. This is why it was so great to hear Chris sing the song — it didn't sound anything like the original. And it was great.
The judges, including the most important and influential Simon Cowell, once again praised Chris for his originality and for being uncompromising. But after hearing Chris' performance, many music savvy viewers thought to themselves, "That sounded kind of familiar." And in a way they were right. The band Live (notable but not terribly popular) had recorded a cover of "I Walk The Line" about two years ago and Chris' arrangement was pretty much the same. The difference was, Chris sang it five times better.
One important mystery is whether the anger over this incident will show in the votes come Tuesday night, and whether Ryan, the judges, or Chris himself will address this issue on air in the same way they did for Katharine McPhee's pregnancy rumors.
I'm a bit confused, actually, because I don't understand why there has been such a negative backlash against poor Chris because of this. Especially since it's not really the fact that he sang Live's arrangement of "I Walk The Line," but the fact that he was so widely praised for his "originality" which, if you think about it, is not Chris' fault, it's the judges'.