When you're about to head out on a tour of Texas colleges to stir up votes, who should you bring along as your sidekick?
Well, if you're independent candidate for governor Kinky Friedman, you bring along the most successful independent politician in recent American history, former Minnesota Governor Jesse Ventura.
Between them, the two larger-than-life characters can fill a room with their accomplishments. Friedman as author, comedian, and musician and Ventura as a Navy SEAL, professional wrestler, radio talk-show host, TV-personality, and actor. They also got things in common, having both appeared on Saturday Night Live and both having talking action figures.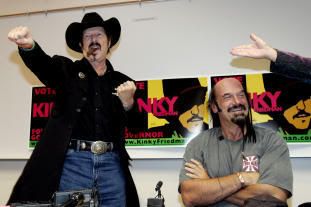 Like Ventura, Friedman is progressive on social issues and conservative on fiscal issues. They both support alternative energy, gay marriage, abortion rights, decriminalization of marijuana, property rights, fiscal responsibility, and individual liberty. They're also both flamboyant as hell and, together, they've got too much personality for any room smaller than a college auditorium.
The college tour launched yesterday and takes them to UT San Antonio, Southwest Texas State, Sam Houston State, Texas A&M, University of North Texas, and various places in between over the course of a week. It includes both large auditoriums and some more intimate appearances.
The idea of the tour is to motivate college students and other young independent voters who are looking for a change. For a lot of them, Ventura is a cultural icon whose wrestling career, as well as his unconventional political success in Minnesota, earned him a national following. Ventura's term as governor ended in 2003, in the midst of some crontroversy over his hostile relationship with the press. Friedman has already attracted some of the same kind of hostility from mainstream media outlets who aren't sure how to deal with him.
Friedman has done more than just bring Ventura along as a campaign draw. His campaign manager and advertising director both worked on the Ventura campaign in 1999, bringing with them experience in outsider politics. Ventura's position in the polls a month out from the election was not much different from Friedman's current second place standing, and Ventura successfully defied the pollsters and won while they were claiming he had no chance. Clearly Friedman hopes to win the same sort of come-from-behind victory.
The populist, pragmatic, quasi-libertarian philosophy shared by Friedman and Ventura is one a lot of people nationwide find very attractive. It hasn't been enough to spawn a real political party as yet, but if Friedman can do in Texas what Ventura did in Minnesota, it might be time for independents across the nation to band together and demand more of the same in their states.