Vancouver's Nettwerk Records are the little guys known for doing big things in the recording industry. The management company, record label, and publisher headed by Terry McBride has a business model that gives more rights, more control, and more per-CD earnings to their artists, and embraces other ways to earn money from music.
From Wired's No Suit Required: "More important, he says, the new model frees him and his artists from the overgrown bureaucracy of the music industry, and that means more money for everyone. He can book tours, sell ringtones, peddle songs to advertising agencies and, yes, give away free downloads without any of the complex, multiparty negotiations that once gummed up the works. 'It used to take months to sell a frickin' ringtone to Bell Canada,' McBride says. 'With BNL [Barenaked Ladies], one phone call gets the job done.'"
The article goes on to say, "McBride's success will depend on what he calls 'collapsed copyright.' Nettwerk will represent artists like BNL, but the bands will record under their own labels and retain ownership of all their intellectual property, an anomaly in the industry. The bands, in turn, can expect to earn considerably more money – say, $5 to $6 from the sale of each CD instead of the standard dollar or two."
Nettwerk made headlines last year with the announcement that they would pay the legal fees of a Texas family being sued by the Recording Industry Association of America. They launched the non-profit Save the Music Fan to raise money to fight RIAA lawsuits, and, as that website demonstrates, McBride is an outspoken advocate of the recording industry embracing peer-to-peer technologies instead of trying to sue them out of existence.
Less philosophically and more practically, I love Nettwerk because they sell DRM-free MP3s or the higher-quality FLAC from their online store.
And now, they've cemented their high position in my esteem by releasing the official soundtrack to House on September 18. The FOX website, where you can listen to samples and download a free track, has the official announcement and track listing:

Massive Attack – Teardrop *
Gomez – See The World
Jon Cleary & The Absolute Monster Gentleman – Got To Be More Careful
Ben Harper – Waiting On An Angel
Michael Penn – Walter Reed
Elvis Costello – Beautiful **
Joe Cocker – Feelin' Alright
Sarah McLachlan – Dear God
Josh Rouse – God, Please Let Me Go Back
Lucinda Williams – Are You Alright?
Josh Ritter – Good Man
Band From TV – You Can't Always Get What You Want **

*North American release only
**Previously unreleased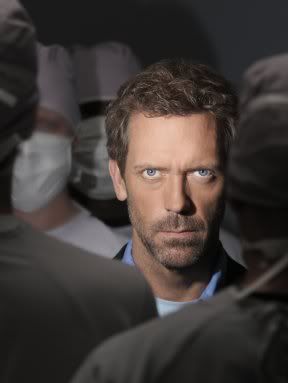 The inclusion of the elusive Elvis Costello track, the cover of Christina Aguilera's "Beautiful," from "Autopsy," is worth the cost of the album (she says before knowing what the cost will be). The soundtrack would be seriously lacking if it omitted "You Can't Always Get What You Want," which humorously and then poignantly bookended season one. And if you can't get the Rolling Stones, what better than the curiosity factor of listening to Band From TV — that's Hugh Laurie, Greg Grunberg of Heroes, James Denton of Desperate Housewives, and other actor/musicians.
There are so many sad omissions here that it would be ungrateful to whine about them. There have been, what, 70 episodes, with at least one memorable song in most? That's not going to boil down into one CD, even if you imagine the show could get the rights to put them all on their soundtrack. Within those limits, they've done a good job of picking some emotion-laden tracks that evoke memorable scenes or character moments.
"Got to Be More Careful" by Jon Cleary is what I think of as the anthem of the Vogler arc (great song, not such a great arc, but an important one). Ben Harper's "Waiting on an Angel" was used in "Lines in the Sand," when House made a connection with the autistic boy. Who could forget "Feelin' Alright" by Joe Cocker playing in the priceless final moments of "Detox," when House was on a long-awaited high after admitting he's an addict but insisting that isn't a problem. Lucinda Williams' gorgeous "Are You Alright?" ends "Fetal Position," when House sits at home alone in his own version of the fetal position. And Josh Ritter's "Good Man" rounds out the season in "Human Error," with House alone in a very different way, having pushed out or fired all his staff.
Since I have at least most of the missing tracks already, I'm not sure why I care if they're on the official release, but Grant Lee Buffalo's "Happiness" reminds me of House himself every time I hear it, as does Ryan Adam's "Desire" to a lesser extent. And including Dave Matthew's "Some Devil" would have seemed fitting since the man himself eventually appeared on the show.
That free download, Josh Rouse's "God, Please Let Me Go Back," and the Sarah McLachlan cover of XTC's "Dear God" have, as far as I and the comprehensive Play House site know, never appeared on the show. Coincidentally, Rouse and McLachlan are Nettwerk artists. I prefer to think the tracks are coming soon to the show, or that complicated rights issues meant there was extra space to fill on the CD; otherwise I will whine a little without feeling too ungrateful.
However, I know I'm a tragic nerd for remembering this, at least McLachlan has appeared on the show, in a manner of speaking. When our favourite jerk is talking to his bulimic patient in need of a heart transplant: "You cut yourself. Probably highly ritualized. You play the same Sarah McLachlan song over and over while you do it. Probably works better than anti-depressants."
The soundtrack sounds like it will be as well. Great show meets great music meets great label: I'll be downloading – legally – on September 18.