By Mike Johnston
Drums were probably the first musical instrument that was developed thousands of years ago by early humans and then, as now, where there is the rhythm of drumming there is the urge to move and to dance. Drums and dance transcend the lines of time and culture. They are, at the same time, both primordial and eternal.
OTODAMA, translated as "Sound and Spirits" is described as a fusion of
Japanese Taiko drumming and American Funk tap dancing. That description
sounds a bit baffling and when I arrived at the theater I didn't know
what to expect. To call OTODAMA a play wouldn't be right. Neither would
it be correct to call it a dance review. To me it was something else
entirely, something unique and different.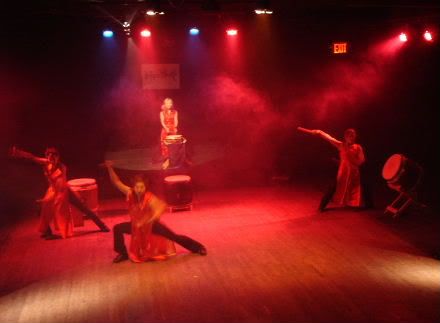 The cast of OTODAMA
(Photo by Yasushi Ogata)
While watching the performance, I got the feeling that OTODAMA is meant
to be a celebration in which the sounds and movements of the
drummers are just as choreographed as are the movements (and sounds) of
the dancers. Sometimes the drummers are dancers and sometimes the
dancers are drummers. The taps on the shoes of the performers are used
as percussion instruments in their own right, just like the various

sizes and shapes of drums and rattles. There is a sort of flux between
the music and the dance in which the two become interchangeable, two
halves of a single whole.
The performers are all young, hip and very talented. Some of them
having been studying dance since as young as 3 years old. The
performance flows effortlessly through costume changes and elements of
various dance styles, from tap to Japanese fan dancing to hip-hop. Also
thrown in are some martial arts kicks and even a few moves
borrowed from break dancing. Costumes range from colorful, stylized hip-hop to traditional Japanese Kimonos and natty, matching dance studio
type outfits.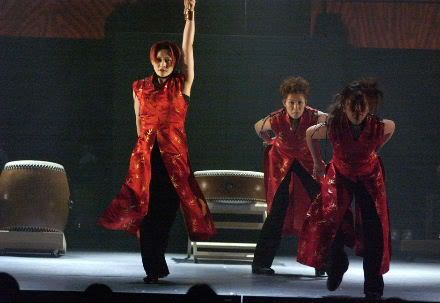 (L-R): Yako Miyamoto, Yuki Yamamori and Hana Ogata
(Photo by Yasushi Ogata)
I thoroughly enjoyed OTODAMA. Kudos to the dancer/drummers and to its
creator (and performer) Yako Miyamoto who has been studying Taiko drumming since she was 8 years old. Her other credits include being a veteran of the off broadway hit Stomp, being a lead performer in the Peggy Spina Tap Company, and directing the show Fire Dance. She is also the founder of the group COBU which performs OTODAMA.
In her biography, Yako says; "My heart beats sometimes to a Japanese
pulse and sometimes to a New York City pulse. I want to express this
new heartbeat fusion of Japanese and American styles…"
The show is currently on a limited engagement at the Flamboyan Theater in Manhattan from December 2-11. It is produced by Toshi Hirano of TKO Entertainment and directed by Yako Miyamoto. I found it to be a joyous celebration of sound, motion and of life itself. Five stars for OTODAMA.
Powered by

Sidelines