I've already reviewed the excellent first season of this series, hoping to turn more people on to this criminally overlooked show. Since then, I've given it as a gift on two occasions and lent it out on another two in the hopes of spreading the message, but I think I only managed to convert two people to the show as a result.
I declined to review subsequent seasons under the assumption that people who have never seen the show wouldn't be particularly interested in reading a review on later seasons, but now that the show has finished its fifth and final season, I figured I'd take one more crack at convincing people to give the show a chance with this spoiler-free overview of the entire series, starting with this statement: At five seasons and 60 episodes long, The Wire is the absolute greatest televised drama I have ever seen.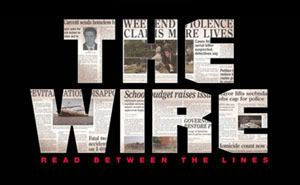 That's not to say that The Wire is a show for everyone, because it simply isn't. I've never watched a show that demanded as much from the viewer as does this one. There are no wasted scenes, every detail matters, but very few are highlighted in a fashion that tells you of their importance.
Every season starts off slowly, drawing you in with atmosphere like the opening chapters of a book, without dramatic chapter breaks to grab your attention (partially due to the fact that there are no commercial breaks). It is a show that requires your full attention, without obviously demanding it, meaning that it is not a show you can watch with your attention divided between it and a book or the Internet, even if its less exaggerated pace suggests that it is.
If you're not paying attention, following the densely plotted world presented by former Baltimore Sun journalist David Simon and former Baltimore police officer and teacher Ed Burns is all but impossible. Simply keeping track of all the characters requires more thought and involvement than almost any other TV show I can think of. By the fourth season, I'd guess that around 50 or so characters play a significant recurring role, which should give you an idea of the sheer ambition of the show. Juggling all these personalities and stories, with all of their complex ambiguities and interconnectivity, challenged me as no show has ever challenged me, and luckily, rewarded me for that effort like no other.
Which isn't to say that the show is a grind, or merely an intellectual exercise. It exhibits a gallows humour that provides a lot of laughs, and a genuine humanism that drew me into the lives of the characters, even if they are as far from my own experience as any I've ever watched on TV. That said, it is anything but escapism, which is what a lot of people are looking for from their television shows. Instead, the show strives for an unmatched level of verisimilitude that shines a light on the black underclass that most people would rather ignore than invite into their homes for an hour a week.
So no, it isn't a show for everyone. If it were, it wouldn't be half the show that it is. Instead, it is a show that redefined what television could accomplish, presenting the struggles of Baltimore with an uncompromising vision; bringing the viewer from the police department to city hall, down to the level of the streets, with a grit that disguises the traditions of Greek tragedy that inform the show. Characters are continually struggling against forces beyond their control, unable to overcome the obstacles the "gods" put before them or escape the whims of fate (only in this case, the gods and fate are the forces of bureaucracy and capitalism).