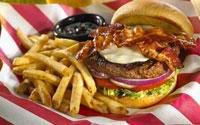 As for the cheeseburger, I thought it was terrific. The meat was a huge chunk of tender beef with, even though husband said "well done", a slightly pink inside. Of course husband didn't like it because how that man likes a cheeseburger is beyond description. Suffice it to say that his pronouncement that the cheeseburger was not as good as mine was greeted with a smile of the compliment. Take it from me, TGIF makes a great cheeseburger. For people of normal taste, that is.
For the final choice of my three course meal deal, I chose a slice of cheesecake. My cheesecake of choice is one of New York style, a not too sweet concoction unadorned by the riff-raff of cherries and other such ungodly toppings. As might be expected, the TGIF cheesecake was nothing like this. The so-called cheesecake was some sort of sweet thing filled with peanut butter and crispy stuff. I took a few bites of the dessert. The sweetness went fine after the spiciness of the pot stickers and mellow taste of the Jack Daniels flavored pulled pork. Beyond that this dessert was strictly mass-produced schlock deserving of no greater grade than a "C".
Yes, I'd go to TGIF again. The place has an extensive menu and every eater should find something that is filling and pleasing to the palate.
---
Pat Fish is a published author and her books have drawn attention from her fellow reviewers on Blogcritics. Reviews of Memoirs of Josephine Fish and Mystery and Mirth have been conveniently provided for your reading pleasure.