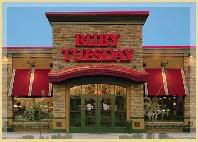 Accompanied by my niece and after a tour of a local chocolate exposition, we ended up in the bistro chain of "Ruby Tuesday", ostensibly named after a Rolling Stones' song but who knows?
We were seated at a fine booth with a pleasant view. The service throughout our dining experience was impeccable.
We began with a drink, a margarita. Not that I'm a connoisseur of mixed drinks but I thought my drink to be a little low on the spirits. Although the lime was fresh and sharp as only fresh limes can be.
I considered the Shrimp Pasta Alfredo but changed my mind quickly. This dish, one of my favorites, is always served in gigantic portions and offers little of variety in terms of taste and presentation. Ruby's brags about its salad bar and with full intention of testing it fully, I decided on an appetizer termed by the restaurant as a "4-Way Sampler".
Ruby's own menu describes this treat as:


4-Way Sampler
Asian glazed wings, classic Tuesday tenders, Southwestern spring rolls and fried cheese sticks. Served with smoky honey Dijon, ranch and marinara dipping sauces.

My niece opted for one of Ruby Tuesdays custom hamburgers. We both decided to begin our meal with a trip to the salad bar.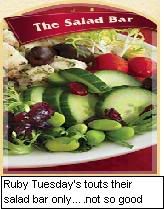 Keeping a salad bar clean and tidy can be a challenge at times. Customers tend to drop bits of food and stuff drips. However, on the day of visit by niece and myself the restaurant was not crowded.
We arrived at around 4:00 pm for a late lunch/early dinner. While an employee was busy keeping the salad bar stocked with plenty of food, no one was paying any attention to the general untidiness of Ruby Tuesday's great source of pride. Lettuce that was meant to frame the pretty vegetables was tossed all about and was more a nuisance than a pleasure to the eye.