Eva Perón (known in Spanish as Evita) poured out her personal feelings through a combination of her remarkable image — fueled by photography, fashion, and make-up — and forceful public policy. She was controversial because there was so little nuance in what she wanted to be or what she wished to do.
By most accounts, Evita was the most powerful woman in the world during her life. It is a shock, then, to have to look for her for such a long time in the Cementerio del norte in La Recoleta, Buenos Aires, hidden away as she is in a mausoleum identified by her errant father's family name — Duarte — instead of by the name for which she was so world-famous.
The crypt hides her in darkness, indeed thirty feet below the surface of the earth. Perhaps, I thought when I visited her there, she's just fatigued from all the travel she's been through since she died. Her travels are described by Tomás Eloy Martinez in his novel Santa Evita, which is available in English translation. Martinez chronicles the migration of Evita's embalmed body — sometimes in friendly hands, sometimes not — halfway across the world.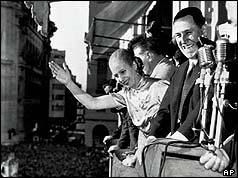 She was a radio and film actress with a minor talent, a gatherer of the hearts of the Argentine poor, and a very great, extremely flawed politician. To this day, Evita is viewed in Argentina either as a saint or a whore, as a soulful heroine of the people or an unprincipled fascist.
There is a tango, entitled "Maquillaje (Make-up)." It is one of the few I've ever seen that actually has an epigraph, from the sixteenth century Spanish poet Lupercio de Argensola: "Porque ese cielo azul que todos vemos, ni es cielo, ni es azul. ¡Lastima grande que no sea verdad tanta belleza!" (Because that blue sky we all see is neither sky, nor is it blue. What a great shame that such beauty is so untrue!)
Like so many tangos, this one is an accusation, by a man, of love gone bad. Betrayal and lies are at its heart, and the lies themselves reside most obviously in his lover's make-up. The poet says she buys lipstick, and some blush that trembles on her cheek, and dark eye shadow, tinted green – but it's all lies. Her virtue, her love and goodness, and even, finally, her youth – all hidden by her make-up.
"Mentiras…!te maquillaste el corazón! Mentiras sin piedad…"
(Lies…You put make-up on our own heart! Pitiless lies…)
Make-up does nothing to conceal her betrayal of him, and cannot hide the immediacy of death.
Perhaps it was the way Evita looked — so ceramic and elegant, beautifully dressed — and the public view she so sought out that was a mask, that of the performer whose performance is all she wants people to really know. "O brightening glance, How can we know the dancer from the dance?" W. B. Yeats asks. Was the intensity of her power and the tears she shed publicly so often for her people a kind of make-up, of a sort that, as she exposed herself to such scrutiny, vilification and intense congratulation protected her with its very insistent openness?
My first recollection of Eva Perón comes from a Movietone newsreel I saw in 1947 with my parents at the Paramount Theater in Oakland, California when I was four years old. To my knowledge, I have no other recollection from 1947. She was on a state trip to Europe, her first ever outside Argentina. The newsreel showed the most beautiful woman in the world being bowed to by just about everybody. I thought she was a queen.
She went to Spain, where she was greeted at the Madrid airport by three million people; among them, General Franco and his cabinet. There is a photo of Evita standing on the steps outside a reception held in her honor in Seville. She is wearing a long dark gown, very beautiful strapped shoes, a jeweled tiara of some sort on her spectacular bleached blonde hair, and a luxurious mink cape. She is surrounded by other beautiful women and numerous important-looking men dressed in uniforms, black ties and tails, medals and other symbols of power – but she is clearly the very center of the moment.
She continued on to Rome and Paris, where she met with representatives of the great French fashion houses Christian Dior and Marcel Rochas. They were to supply her with the clothing that made her into an international fashion spectacle in the following years. A Newsweek article in the August 3, 1947 issue describes a reception held in her honor in Paris, attended by every Latin American diplomatic mission. She wore a skin-tight gold dress with a long train and a gold veil. Her shoes were covered with various jewels, and she was herself bejeweled spectacularly in gold and diamonds.
She seemed in every respect to want to be viewed as a queen, in the way that I viewed her while I held my mother's hand at the movie. Her appearance made her seem completely individual and completely unassailable, but she was assailable. There is another fashion moment, in a voyage by car, in which she thumbs her nose at the force that was soon to defeat her.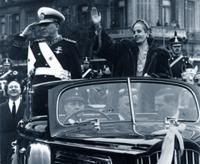 On June 4, 1952, Juan Perón was inaugurated to another term as President. By this time, Evita, then just thirty-three, was suffering badly from the uterine cancer that would eventually kill her. Despite her physician's orders, she insisted on accompanying her husband to the inauguration.
She ordered a frame to be built, of plaster of paris and wire, to be bolted to the inside of the open car in which they would travel to the ceremony. She wore a full-length mink coat to hide the frame to which she had tied herself. She was like a statue bolted to a float so she wouldn't fall over. Without it, she would have been unable to stand next to Perón on his great day.
When I first read of this, I thought of the tango, Maquillage. Make-up provides a similar metaphor to that of the hastily thrown-together frame, and of Evita's need to appear vital, to seem well, and to hide her despair within a luxurious remnant of her glamour. Eva Perón came from the lowest class, like tango; from nowhere, like tango. She became world renowned as the very essence of Argentine beauty – darkly impassioned, severe in her power, and violable in her personal life, also like tango.
There is another, a tango called Viejo Smoking. The Argentine word "smoking" comes from the English smoking jacket, and "un viejo smoking" is an old tuxedo. This tango is different from Maquillage because it is about a man and the suit of clothes he wore in the old days, the function of which was to lead women astray.
He is an old decrepit now, looking back, and he sees his past in the smears of make-up and the stains left by tears in the lapel of his tuxedo jacket. He wonders where they've all gone, all those women. He laments their absence, yet brags to us about his use of them and his abandonment of them.
He refers to his "fama de gigolo," his reputation as a gigolo. Now, though, he is abandoned, friendless, and awaiting his death. Nonetheless, in the end he repeats the gigolo's chorus. He longs for the life he had. His soul aches for it, and he is seemingly unable to see that his current ragged state was caused by his callous deception of others.
In both these tangos there is a mask intended for deception, a mask that is nonetheless a mark of a certain formality. The lovely colors of make-up, intended to deepen the glorious beauty of a woman, are equal to the black elegance of the tuxedo, which makes a man into what appears to be a gentleman of classic sincerity.
They're like the brush strokes intended by Vermeer to enhance the reflection of light on a wine glass or by Turner to darken and make more threatening the faraway squall. In tango, though, these brush strokes — the makeup, the tuxedo — form the mask that hides, yet in the end elaborates the ecstatic passion, the betrayal, or the lie.
Because of what they hide, the formality of them makes tango that much more incendiary.
Powered by

Sidelines