After a week of long lines, packed theaters, and crowded buses, Sundance is dying down a little. We're on the last few days, and here in the press lounge it's eerily quiet. When just a day or two before there were big deals going down right around me, now the place is empty except for a couple of people.
I'll be here until the bitter end. There are still some films I really want to see. One film in particular that is getting a lot of buzz and just acquired a distribution deal is An Education. I wasn't able to see the press screening because instead I went to Big Fan. I'm regretting that decision now. But that's how it works out. There are still some "to be announced" spots on the screening schedule so I'm hoping against hope that they screen it again for the press.
Today was another big movie watching day, and also the first day I've found myself watching films in a public screening. It's a different experience, and I like it. I was surprised, the audience actually use their BlackBerrys and iPhones a whole lot less than the press does during screenings.
Shrink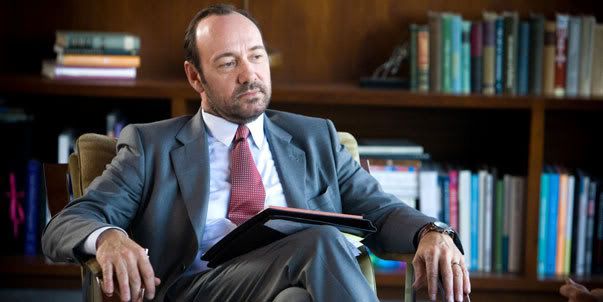 What if your therapist, the person you trust to help you stay sane has more emotional problems than you do? That's the question that Shrink asks.
Carter (Kevin Spacey) is a therapist for some of the biggest people in Hollywood. Carter drinks too much, smokes too much weed, and is in the middle of the greatest crisis in his life. He's trying to get over the recent death of his wife. He sleeps anywhere but his bed, passing out wherever he was last smoking pot. He even uses his drug dealer as his own therapist at times.
Carter has a eclectic group of clients: an aging Hollywood star (Saffron Burrows) with a jerk country singer of a husband (Joel Gretsch), an obsessive-compulsive neurotic Hollywood agent (Dallas Roberts), a "functional alcoholic" Hollywood actor (Robin Williams), and a struggling young writer who happens to be his "god brother" (Mark Webber).
After an intervention by friends who are concerned about his drug habit, Carter's father, who is also a therapist, assigns him a client, a young girl named Jemma (Keke Palmer) who is trying to deal with her mother's suicide. Each one of these colorful characters has links to each other, but their common ground is Carter. Even though his life is falling apart around him he still manages to help these people.
Everyone has problems in their lives. It's how we deal with those problems that defines who we are. It's too hard to go at it alone. In Jemma, Carter finds a kindred soul, someone to commiserate with — someone who can help him become the person he used to be. Shrink shows us that we all need help; we just need to know when to ask.
The Killing Room
The Killing Room is a psychological thriller that doesn't disappoint. It works on the same level as Saw, but takes out all of the torture, leaving the audience with just the pure suspense.
At the beginning, words come up telling you that the government never stopped the top secret government program MK-ULTRA that was used to create mind control. The most interesting thing about The Killing Room is that the entire time the audience knows who is behind everything, right from the outset.
Four people are put into a large, white, sterile room. Stainless chairs and tables are bolted to the ground. Some of them are bolted in extremely awkward places. Each person is to fill out a survey. After a few minutes a man walks in and blows away the female in the group. It has begun.
The acting in The Killing Room is superb, with good performances from Chloe Sevigny and Nick Cannon. The suspense builds as the people in the room are forced to choose answers to questions where they have no idea what the answers are anyway. Each time they are informed that another person will die once everyone has answered.
The Killing Room will do well among the hardcore Saw fans and those who just like to watch a good thriller. It's a great middle ground. It's not extreme in its violence, but it doesn't hold back either. It's a perfect mix.