I got an early start today at 8:30 a.m. Yes, they actually show films that early up here. Between 8:30 a.m. and 7:00 p.m I saw four films, each of them quite different from the others.
Five Minutes of Heaven
Like I was saying, it's pretty hard to start watching movies at 8:30 in the morning. It's a good thing that Five Minutes of Heaven was 90 minutes of genius filmmaking. It did get screwed with its timeslot in the press screenings though – early in the morning and on Inauguration Day. Needless to say the theater was nearly empty.
Five Minutes of Heaven tells the story of two men caught up in the conflict in Ireland in the 1960s. As a youth, Alistair (Liam Neeson) killed a man. That man was the brother of Joe (James Nesbitt), who witnessed the shooting as a young boy. Years later Alistair and Joe are grown men. Alistair served twelve years in prison for shooting Joe's brother. They are about for the first time on an Irish television show that wants to film the meeting between the two.
For the past 33 years Joe has had to live with the guilt thrust upon him by his mother. She blamed Joe for his brother being killed. Even though Joe wasn't older than 10, she still continued to blame him. The effects of this mental abuse can be seen in Joe as an adult. He's constantly nervous and fidgety. He plays things over and over in his head. His undeserved guilt still deeply affects him.
The second act of the film — when Joe and Alistair are about to meet — is filmmaking at its best. Suspense builds and builds with an obviously agitated Joe and a shaken Alistair.
The acting here is superb. Nesbitt plays a man on the edge better than anyone I've ever seen. You can tell that deep down he really is a good guy, but he wants revenge. He wants revenge for his brother and for what happened to him in the aftermath.
Neeson, likewise, is great as Alistair. Unlike Joe, who wears his emotions on his sleeve, Alistair tries to conceal them, but you can tell he has deep remorse for what he's done.
This is a revenge movie without all of the fighting and killing. Nesbitt and Neeson rarely have any screen time together, but the tension is still unbearable. What's going to happen when they meet? That's the big question, and the conclusion is perfect.
The Informers
Star-studded casts are lures at Sundance. They draw the people into the theaters, but sometimes the a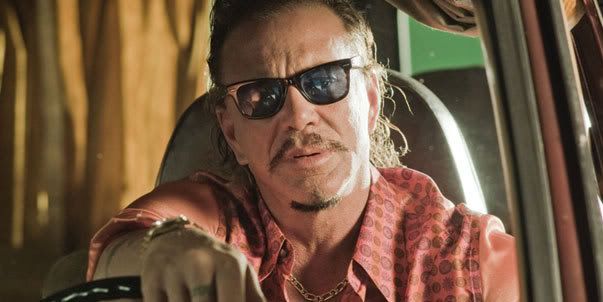 udience ends up leaving empty-handed. In the case of The Informers, the audience definitely takes away very little from the film.
The film is a 98-minute journey into narcissistic nothingness. Set in the '80s in the middle of L.A., The Informers follows around a plethora of characters all of whom, surprise, have problems. Big ones. Kidnapping, sexually transmitted diseases, cheating partners, underage infatuations, and confusion over sexuality just to name a few.
There are so many characters and so many story lines, packed into such a short movie that none of them approach anything considered coherence or resolution. The characters are thinly connected to one another, but there's nothing that truly brings them all together. There's even a completely superfluous plot line that involves a young kid and his father in Hawaii.
This movie wants so bad to be a quirky character romp in the vein of Pulp Fiction, but it fails on so many levels. There is not one likable character in this film, they are all irredeemable messes who have no point in existing in the first place other than to be vapid wastes of space.