So much to talk about and so little time. I'll do my best to be brief.
Bad Wang. The owner of the Islanders has really topped himself. In a league where ineptitude and embarrassing behavior is commonplace, Charles Wang really set up himself as the paragon of buffoonery. Out as general manager is Stanley Cup-winning Neil Smith. Replacing him is just-retired backup goalie Garth Snow, a guy whose hockey front office experience is limited to being a goalie. Isn't it amazing how on one hand some guys can be brilliant enough to amass an amazing fortune, and on the other hand be fatally clueless?
Tiger Woods. He defended his British Open Championship. That's all I have to say, but it's enough to get Woods' name in the headline.
Golf On The Radio. Yes you read that right, golf on the radio. Thanks to XM Radio I listened to the British Open broadcasted by three engaging English blokes via an outlet called Open Golf Radio. What a welcome change from the hushed and reverential tones that are over used by American television golf announcers. These three Open Golf Radio guys made for the most enjoyable sports-on-the-radio listen that I have had. From discussing the color of Sergio Garcia's outfit – canary yellow or squeezed lemon? – to talking about the nuances of Tiger's golf swing, you felt like you were listening to three guys watching the tourney on the telly at the local pub. And even though Woods won, you didn't get the impression that he was the only guy playing in the Open.
The New York Post Follows My Lead Again. Last Monday I posted a story about Dr. James Shortt, the doctor who conspired to prescribe steroids and growth hormone to members of the Carolina Panthers, and asked how is it that the Panthers involved with this doctor have not been punished by the NFL. Just yesterday the Post finally heard about this story and had one of their columnists write something about the same thing. Keep up the good work fellas!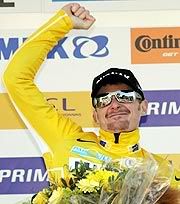 The Tour de France. American Floyd Landis pulled off one of the greatest comebacks in sports history as he came back from losing badly in one of the final stages, to win the Tour de. Unfortunately, Landis' win was overshadowed by the Woods win and almost every other bit of sports news this weekend. Hopefully history will be kinder to Landis than the present.