Next month marks ten years since the death of one of science's most well loved public figures. Astronomer and author Carl Sagan, perhaps best known from his much lauded 1980 PBS Series Cosmos, is still looming large in the public eye. The series, which has been broadcast in over 60 countries and seen by an estimated 600 million people is looking for even more viewers as it moves (digitally re-mastered) to The Science Channel this month in honor of the 25th anniversary of its inception.
In addition, The Varieties of Scientific Experience: A Personal View of the Search for God, a collection of lectures written by Sagan and edited by his wife Ann Druyan, was released this month by Penguin Press to glowing reviews.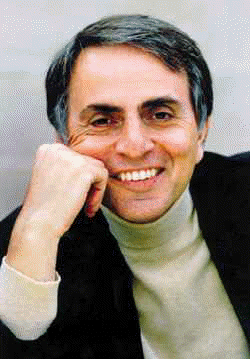 My first exposure to the late Carl Sagan came in 1997, with the film Contact, starring Jodie Foster. I was mesmerized by the film's depth, its portrayal of a pure love of science, and the debate at the heart of it: Faith in God vs. Faith in Science. As the lights came up and the words "For Carl" scrolled up the screen, I was both educated and intrigued. The film went on to win the 1998 Hugo Award and I went on to talk about it ad nauseam to more or less everyone I met.
The film, an adaptation of his best selling science fiction novel of the same name, was just one of over 600 scientific papers and popular articles and over 20 books written or edited by Sagan during his prolific career. Included in that mix was the Pulitzer Prize winning Dragons of Eden: Speculations of the Evolution of Human Intelligence as well as the best-selling science book ever published in English, Cosmos.