We have a problem with greenhouse gasses building up in the atmosphere. There isn't really much argument to that statement. Carbon dioxide is at a 30% greater concentration today than it was at the start of the industrial age and so it is the main one that concerns us, and I thought I would take a look at a little known option for dealing with it that just might be the best one. If you look at the natural scheme of things, animal life on this planet takes in oxygen and releases carbon dioxide into the atmosphere. Plant life does the opposite, taking in the carbon dioxide and releasing oxygen. As long as these two halves of the whole are relatively in balance, the ecosystem is maintained in a way which is beneficial to both types of life.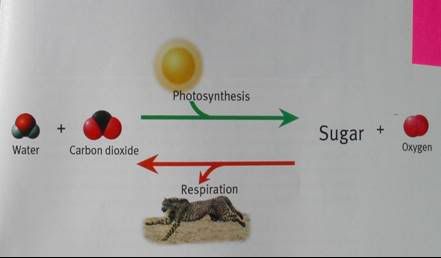 As you see in this simple illustration, plants take in both carbon dioxide from the atmosphere and water from the ground and then combine these two elements to create sugars and then release the excess oxygen which is formed as a byproduct of this process. Since the burning of fossil fuels creates carbon dioxide and water vapor as its two main products, then we can say that plants are reversing this process in a way by taking these pollutants and turning them once again into a form of hydrocarbon (sugar is composed of carbon, hydrogen and oxygen).
The energy to carry out this process comes from the sun. Can we get more energy out of the alcohol or biodiesel we can make from these plant hydrocarbons? No, of course not. The idea, though, is to turn the energy of the sun into stored chemical energy which we can use to power our transportation infrastructure.
The main problem is that the biosphere we live within cannot take in all of the carbon dioxide that we produce and so we cannot have a renewable fuel supply based on plants alone. On the other hand, it is because plants cannot take in all of the carbon dioxide that we produce that we have climate change. Unless we somehow drastically reduce the amount of fuel that we use, we are just going to keep putting more and more carbon dioxide into the atmosphere and then we will have to live with the consequences.