There are a lot of music players available for Linux. If most of them were junk it would be easy to choose one to use regularly, but that's not the case. There are many good quality players, but they all have different features. This article is meant to assist you in choosing the one that's right for you. Try different ones to see which you like best.
This list, of course, is by no means complete but it should give you an idea of what's available.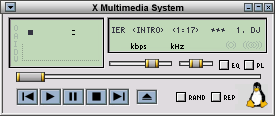 This is the old war horse of graphical music players on Linux. There are a ton of plugins to extend its functionality as well as skins to change its appearance. The interface is simple if you just want to play music, but it is a bit clunky once you start getting into more advanced features. There are a lot of people that still use this one, but it is dated and some distributions (such as Gentoo) aren't including it anymore.

Another simple media player for KDE. Plugins are available, and it is skinnable. It uses simple playlists and isn't a bad choice if all you want to do is play music.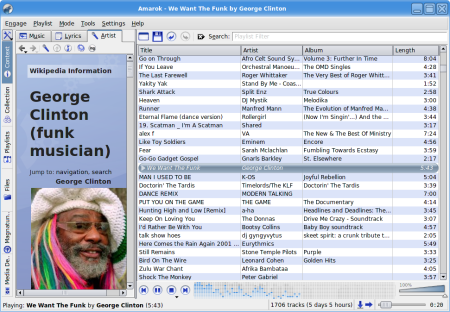 This is the player I use. In my opinion it is the most advanced player out there for Linux. Smart playlists, lyrics, album covers, tagging, information about the artists from Wikipedia, transfer music to and from digital audio players, an integrated music store (Magnatunes.com), and way more that I can't describe in the space I have.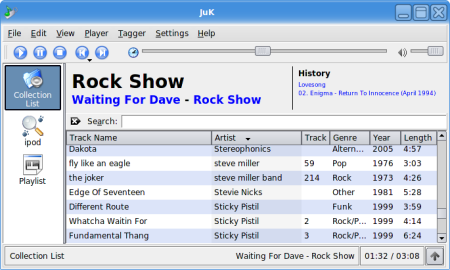 Juk will organize your music into playlists, and can include album covers as well. It will also burn playlists as audio or data cds through K3b.