Even if you're not running Linux on your computer you can still use GParted by booting from the LiveCD. The LiveCD is a small image (about 50 MB) that contains a stripped down version of the Gentoo Linux operating system, the Fluxbox window manager, and GParted. It's probably the easiest way to partition your hard drive, as you won't have to worry about unmounting partitions. It is dangerous to modify a mounted partition, and using the LiveCD ensures all partitions are unmounted unless you explicitly mount them.
Download the iso image and burn it to a CD. If you're running Windows your CD burning program should have an option to "Burn Image to Disc" or something similar. Don't just burn it as a data disk; it won't work. In Linux, if you're using Gnome, just right click the iso image and select "Write to Disc." With KDE right click the image and select "Actions," then "Write CD Image with K3B." Burn the CD, put it in the CD tray, and reboot.
You'll see a screen like this:
Just select the first option (GParted LiveCD) with the arrow keys and press Enter. You'll be prompted to hit Enter a couple more times to accept the default language and keyboard template. Once the boot process is complete you will see this:

(click image for full size)
A list of partitions on your hard drive will be listed. Mine looked like this: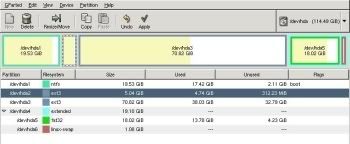 (click image for full size)
I have four primary partitions on one hard drive: hda1, hda2, hda3, and hda4, which is an extended partition with hda5 and hda6 in it. Don't worry too much about what extended partitions are. They are primary partitions that are partitionable, allowing you to fit more than four partitions on a single hard drive.
My problem was that the partition my operating system was on, hda2, was too small at about 5 GB. I wanted it to be twice that size. I needed to take some space from my data partition, hda3, and give it to my operating system. The first thing I needed to do was resize the data partition, hda3. Highlight the partition you want to shrink, and click Resize/Move. You will see a graph representing the partition, as well as some fields telling you how much space is available. We have the option of freeing up space either before or after the partition. The partition we want to give the space to (hda2) is before, so grab the left arrow with the mouse and move it to the right until enough space is freed: