OK, so a news story on green sperm isn't something that will be splashed across the front page of the New York Times, nor will it be on the lips of every pretty TV news girl in the nation. Even so, a team of researchers at Oxford has manipulated some genes that make a certain jellyfish glow green and used it to create sperm that glows in the testicles of hamsters.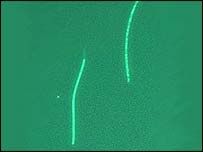 Image from the BBC
Coincidentally enough, hamsters just happen to have sperm that is similar to that of humans. The scientists hope to use the glowing sperm to study how sperm forms. The results of this research are believed to be potentially helpful to humans. Normally sperm cells are difficult to work with in the lab because of their small size, odd shape and their short lifespan outside the body.
"Our real aim is to use this technique to study the function of genes that are important during fertilisation and that may cause infertility if they become defective" said lead researcher Dr John Parrington to the BBC. "That's an important goal given that a recent study found that one in seven British couples have fertility problems, and a third of these have an unknown cause."
The team plans to use the sperm primarily to learn about how a sperm entering an egg triggers it to develop into an embryo. The fluorescent green only shows up between the head and the tail of the sperm, in the middle of it. This is because the cell mitochondria are located there. The glow is only visable under a microscope using a particular wavelength of light.
"This will allow scientists to examine many aspects of sperm function that would previously have been impossible" Dr Allan Pacey, a fertility expert based at the University of Sheffield and secretary of the British Fertility Society told the BBC. "There is an awful lot to discover about how sperm work and why sometimes they fail to function properly."