The purpose of this monthly series is to highlight an outstanding contributor to the site as chosen by the editorial staff. Over the past three years, Blogcritics has grown tremendously, in large part due to the contributions of a stalwart group of writers who have consistently informed, engaged, and entertained us. This designation is meant to recognize and celebrate the best of the best, those writers who not only shine by virtue of their talent, but whose continual participation gives all of us a reason to tune in each and every day. As new readers are continually discovering Blogcritics, we also hope to introduce these fine writers to a new audience.
Please join me in a virtual round of applause for this month's honoree, Mark Saleski!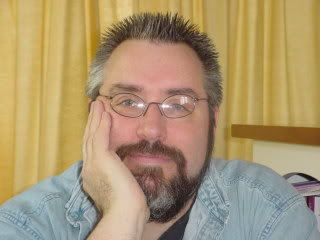 Anyone who visits the music section of Blogcritics on a regular basis knows Mark. His first post dates all the way back to August 19, 2002, so he's been here since the beginning (the site launched on August 13 of that year). While he's contributed the occasional book review and cultural musing, music reviews make up the bulk of Mark's contributions to the site, and he's offered us his very personal take on music in just about any genre imaginable.
Many regular readers, myself included, don't consider the week complete until they've had a chance to peruse Mark's weekly column, "The Friday Morning Listen." The effect this column has on a lot of readers is best summed up by music editor Connie Phillips, who says, "Mark Saleski has a way of taking his writing, be it his reviews or his feature 'The Friday Morning Listen,' to a personal level. He weaves his life into the music and the result is always an entertaining anecdote. My Friday morning isn't complete until I see how Mark's life is affected by the music he's listening to ... or how incidents in his life affect his music choice."
Mark is also an active commenter on the site, and as everyone knows, that's a great way to make friends around here. Assistant music editor DJRadiohead offers the following:
Regulars around here will know Mark and I have created this... thing. Highly technical term, thing. You could call it antagonism or rivalry. There is only one tiny problem with that: Mark and I agree far more often than we ever seem to let on. Don't tell anyone, though — especially him. I guess we could just call it good-natured harassment.