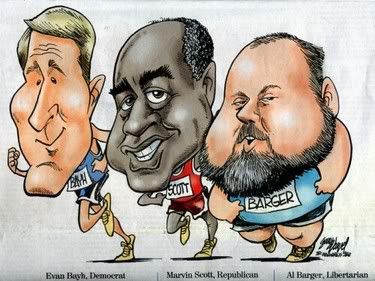 I don't have specific plans to run again. I've been there and done that, and it would take a little convincing to go there again. I was passing out Ed Clark for President literature in my hometown in 1980, never having met a Libertarian, even before I turned 18 just in time to get to vote. I'd run for state and county level offices several times before running against Evan Bayh's re-election. This was just a bigger canvas.
I was certainly not delusional enough to think any third party candidate would beat the most popular politician in the state, but this was the best way to get my two cents in. My two cents remains in, by the way, as my campaign website is still there archived at my website, including my two campaign TV ads. It was as much a literary exercise as a political campaign, really.
As to what I took away from the experience, it did reconfirm to me that actual people (Hoosiers, at least) are mostly halfway reasonable individuals that you can talk sensible with, unlike some of the ridiculous fringe of lunatics and trolls that make so much noise on the 'net. Beyond that, I had a really good time and got to meet a lot of cool people, reporters and folks at county fairs, other candidates, and the damned dirty hippies that came up from Bloomington for our I-69 protest.
I was quite taken aback, while researching this piece, to discover that you've written well over 1,000 articles for BC, the first one in October of 2002, which means you've been here almost since the beginning. What brought you here, and what keeps you here?

Oh yes, I'm definitely OG in the BC. I'd already been plugging away at MoreThings for some years. Finding the site, I wrote [Blogcritics Publisher Eric] Olsen a note hoping for a link to my scathing review of Springsteen's album, The Rising. Instead, he suggested that I write for him and I published the whole review here, and it was off to the races.
There are a lot of good things about publishing here. It's a broad forum, both from the reader and the writer perspective. I can write about almost anything here, and there's an audience interested in almost every topic coming in the front door.
Also, the comments threads give me wide feedback without having to play comment cop on my own, or having F, MF, F-ity, F all over MoreThings. It gives rise to cool things that I'd never get on my one-man site, such as the way my modest Miracle of Fatima story became a perfect pulpit for the continuing oracular pronouncements of the mother of Christ, Mary Reborn Literally.