I have been waging a war within myself for a while now: nagging questions of matters fraught with heaviness and importance. What really is our individual and collective purpose in the world and how can we make an indelible mark that both portrays our lightness and darkness with truth and honesty? More specifically, how do you teach your children to recognize assholes when they encounter them? And even more to the point, how do you teach them not to become one of those assholes?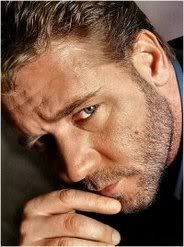 And what does any of this that have to do with Russell Crowe? Peripherally very little, but a cautionary tale of a journalist's encounter with the Gladiator speaks volumes about my own cosmic inquiries of sincerity, genuineness and human nature.
Jack Marx is the writer turned "stooge." He tells a tale of being groomed to be Russell Crowe's "champion," ostensibly for his musical outlet, 30 Odd Foot of Grunts. But that's not exactly what happened. After reading a piece by Marx, a fellow Australian, lambasting tabloid media for exaggerating and fabricating celebrity stories, Crowe thought he had found a like mind in his crusade to cleanse his public taint – a taint brought on by his own brooding and boorish behavior.
They met, Marx was wary but intrigued and what followed was a sordid tale of manipulation, disengenuousness, bait and switching and glad-handing by Mr. Crowe, and hand wringing and soul-searching by Mr. Marx.
If we can turn down the microscope to the molecular level, we can spy on the smaller story here in Randomville: it's not the Oscar parties, but the PTO; not personal assistants, but classroom parent helpers; it's not magazine cover stories but the local newspaper's Notably Noted; there are no chauffer limos, but biggest SUV owner; and instead of palatial ranches we have manicured lawn mavens, and so on and so forth. These are the trivial matters of suburban life where things aren't so grand and sweeping, but they needle at your soul just the same.
We live in a small upper-middle class suburb in Ohio. We, through good fortune and the generosity of loved ones, have been afforded a life that gives the illusion of having more "good fortune" than truly exists. Ours is a borrowed life of artisans honing our craft, bartering our present for future success. Only time will tell if reality catches up with the projection, but to the outside we seem like everyone else in our insular Rockwellian world.
So what do Mr. Marx and I have in the common? We are both searching ourselves for our motives and intentions. For his part, Mr. Marx doesn't want to be the royal ass-kisser to the resident King Crowe in exchange for worldly possessions to the detriment to his craft and personal code of ethics, and I don't want to spend my hours dealing with annoying parents, their rude children, and pushy school officials to guarantee that my daughter is in the right group, most popular or most recognized; or, worse yet, to make my life seem just a little more important to a handful of people who are jealous because, they too, wish they were PTO President or whatever silly title is being handed out.
And therein lies the conundrum: is it so wrong for Russell Crowe to want to micromanage his PR against the world of prying eyes and paparazzi who seek to capture his downfall by handpicking and befriending journalists to write glowing reports of his benevolence and graciousness? Is it wrong for stay-at-home moms to seek a modicum of personal recognition and regional esteem for dedicating their every waking hour to fundraisers, bake-offs and room-mother duties? Is it wrong for Jack Marx and myself to find attempts of both parties self-serving, pathetic and reeking of self-congratulatory desperation?
No, no, and no.