I spent my New Year's Eve at home this year watching Tila Tequila's Rockin' New Year's Masquerade Party. It was different for me to be watching New York City on TV instead of being there in person but I didn't feel like partying due to having a cold. At any rate I wasn't sure how the masquerade thing fit into New Year's Eve other than giving Tila the chance to change outfits every two minutes but whatever; it was mildly interesting.
It was better than her Celebreality show, Shot At Love, anyway. A lot of people, including me, are so disillusioned with those bullshitty celebrity matchmaking shows. Flava Flav (of Public Enemy) pioneered the way there and once he got to his third or fourth season I had kinda figured out that he wasn't really planning on finding Ms. Right. Same thing with Bret Michaels (of Poison) and now Tila. They're just D-list celebrities trying to make a comeback by playing on the emotions of gullible fans or fame-hungry suitors (whichever way you want to look at it). Hey, I know, let's hook up Tiffany "New York" Pollard of Flava of Love fame with Dominico from Tila's Shot At Love. Ahhhhh… now there's a match made in heaven.
MTV provided some reasonably good music acts. I especially liked seeing Run (from Run DMC) do a cover of a Run DMC song with Kid Rock. Run having his own kids do the song with them was fun. I especially liked his youngest son bustin' his moves. Okay, I know, Run has his own reality show and that his older son is trying to get his own big break in the music biz. Of course when your father is famous and you can play your first public gig on the stage at MTV on national television you really don't have to try that hard, do you?
Of the other acts that performed on Tila's show, Wycliff Jean was just plain cool as always. Mary J. Blige was great as you would expect and Kid Rock did a good version of "Cowboy". Paramore was interesting because I think their lead singer is hot. I wasn't that impressed with any of the other up and coming acts she had on the show. Sure they were good, but I know a lot of very good acts who could just as easily have been there instead.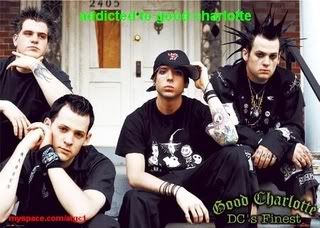 One thing that did strike me was seeing Good Charlotte perform. I haven't really kept up with them since the band released its first CD. Okay, I liked some songs on that CD but sort of mentally filed them under the "kiddie punk/emo" category and let it go at that. Then on New Year's Eve I saw them again and all of a sudden they had gone from being a bunch of heroin-skinny punkers to a bunch of chubby guys pushin' middle age and lookin' like the Blues Brothers. The one dude is starting to really resemble Meatloaf and that is sorta scary in its own way. I was like, wow, has that much time really gone by already?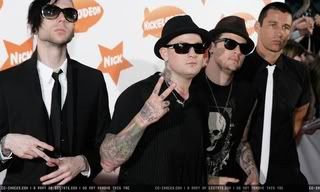 Yeah, we all get older but Aerosmith and the Stones look better in their 60s than these guys do pushing 40. Maybe it is just me, though; I don't know. Maybe I am letting their early efforts define them too much. Maybe I don't take commercial music as seriously as I should. I have always liked to hang out with bands before they get famous, when the artists are paying their own ways to the show and working for gas money (if they are lucky).
The music and the talent it takes to create it seem more real in that situation, at least to me. So I will keep on digging indie bands and sneering at corporate plastic acts and I hope I spend New Year's Eve next year in some out of the way bar on the Lower East Side drinking PBR with a Jack back, hangin' out with a band no one has ever heard of.