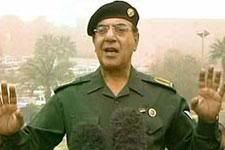 On April 8th, 2003 Baghdad Bob vanished. Mohammed Saeed al-Sahaf, the Iraqi Minister of Information under Saddam Hussein was a constant figure during the 43 day war to take Baghdad. He was actually the best part to come out of that war. Saturday Night Live could not have written a better character. Who can forget these classic and timeless lines?


"We butchered the force present at the airport. We have retaken the airport! There are no Americans there!"
"Whenever we attack, they retreat. When we pound them with missiles and heavy artillery, they retreat even deeper. But when we stopped pounding, they pushed to the airport for propaganda purposes."
"The Americans are not there. They're not in Baghdad. There are no troops there. Never. They're not at all."
"We have killed most of the [coalition] infidels, and I think we will finish off the rest soon."
But then he just vanished without a trace. We all knew he would re-emerge from the rubble of Baghdad, but where and when? MSNBC has unwittingly found him and I cannot believe where he has been hiding.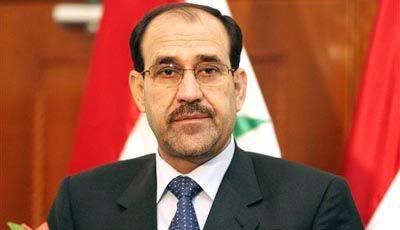 Mohammed Saeed al-Sahaf AKA Baghdad Bob is, in reality none other than Nouri Kamel al-Maliki, Prime Minister of Iraq. I was shocked as well. Who would have thought an idiot who denies reality could ascend to such a high position of authority…..Bush, right.
The proof is there for anyone who wants to look. Sure they look nothing alike and Bob is a little older than al-Maliki, but they say the exact same types of ridiculous statements. There cannot be two people that in denial of reality….Bush, right.