Quotes of Note that reflect what conservatives think. Or are up against.
-----------------------------------------------------


SEND IN THE CLOWN
"The real story about Joseph C. Wilson IV was not that Bush lied about Saddam seeking uranium in Africa; the story was Clown Wilson and his paper-pusher wife, Valerie Plame. By foisting their fantasies of themselves on the country, these two have instigated a massive criminal investigation, the result of which is: The only person who has demonstrably lied and possibly broken the law is Joseph Wilson. So the obvious solution is to fire Karl Rove."
- Columnist Ann Coulter

~~~~~~~~~~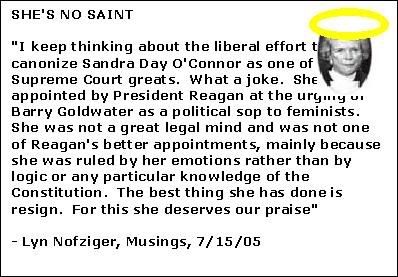 ~~~~~~~~~~
Muslim Justice in Action
WHERE ARE THE NOW-GALS WHEN YOU NEED 'EM?
"Hard-line Islamic clerics in a northern Indian village have declared that a woman's 10-year-old marriage was nullified when her father-in-law raped her — and ordered the mother of five to marry the rapist. . . . The fatwa ordered Imrana Ilahi, 28, to separate from her husband and treat him as her son because she had sex with his father. 'She had a physical relationship with her father-in-law, and it nullifies her marriage,' said Mohammad Masood Madani, a cleric at the theological school. He said it made no difference whether the sex was consensual or forced. The village council then decreed that Mrs. Ilahi would have to marry her father-in-law."
- Washington Times, 7/19/05

~~~~~~~~~~
More Notable/Quotables HERE on my Blog
~~~~~~~~~~~