Republican or Democrat, American or Foreign, the politicos are fine subject for speculation, rumination and a bit of derision

---
New Orleans Mayor Ray Nagin Imitates General Honore
General Honore is some poobah in the National Guard who captured the whimsy of the country after storming into New Orleans with his tough words and in-charge attitude. He also made one of the more popular phrases of this year part of the national dialogue.
I speak specifically of Honore's famous "stuck on stupid" comment that resonated, if ever, during the mess that was the aftermath of Hurricane Katrina.
From Sweetness and Light.com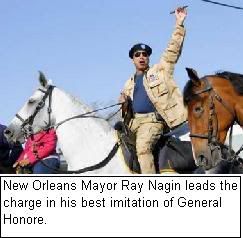 , we have a picture of the fine Mayor Ray Nagin of New Orleans, all dignified looking as he rides his horse down the streets of his city. How handsome is this fellow who left his citizens to drown as school buses sat up to their wheel wells in water, unused for an evacuation Louisiana politicos did not want to enact?
Does riding that horse give Nagin the respect of General Honore? We thinks not. It only makes him look "stuck on stupid".
Here's An Interesting Tidbit on AP's Famous Nothing Katrina Tape Story
Recall yon reader, if you will, Dan Rather, CBS, and those "fake-but-accurate" documents about Bush's National Guard service. Move on now to the recent AP story that had "secret tapes" (heh) of the weather service advising a group of administration types that the coming Katrina storm might "overtop" the levees.
The "overtop" word being critical here. Because Bush had stated, before this big secret tape was suddenly "discovered" by the AP, that no one suspected the levees would be breached.
First, that tape was nowhere near secret. Indeed a viewer can see before their lying eyes a whole bunch of news people in the room. If my ageing memory serves me right, I believe I saw that same news clip myself during all the Katrina brouhaha.
Second, the AP called Bush a liar and they had this "secret" tape to prove it. Only the weather guy, who knows nothing about breaching at any rate, said the levees might be "overtopped".