Republican or Democrat, American or Foreign, the politicos are fine subject for speculation, rumination and a bit of derision

---
It's been quite a week on the Political Tidbit scene. The politicos, has-beens and would-bes, have been all over the place and this is mostly due to the ongoing hearings on the confirmation of Supreme Court nominee Samuel Alito.
We had John Kerry phoning in from the ski slopes calling for a filibuster of the nominee. Diane Feinstein, Senator from California, said she wouldn't vote for a filibuster then she said she would. Harry Reid of Nevada regretted that a Senate filibuster of Alito wouldn't work. And to everyone's surprise save mine, Senator Byrd, that old relic from West Virginia, got up on the Senate floor and excoriated the Democrats for making a mockery of the Supreme Court judicial nominee process.
It might be jaded of me, but I must point out that Byrd will be facing a serious challenge in West Virginia this year as the Republicans have him right in the crosshairs. West Virginia is not a blue state and scuttlebutt has it that the Repubs have a Reagan era candidate ready and primed to prevent Byrd from winning a ninth victory in his home state, where almost every bridge and building, by the way, is named for Senator Byrd.
Still there's plenty more political tidbits this past week beyond the Alito hearings, from both national and international politicos.
First, George Galloway
Here's a man who makes it his career to be the object of political lampooning. He is currently starring in a British series of some sort that requires contestants to be locked away from public contact. Not the type of thing considered very wise for public servants. If that isn't bad enough, he is making a complete fool of himself by his participation in the show's hijinks.
Imagine a Trent Lott or a Harry Reid doing such a thing.
From NewsMax: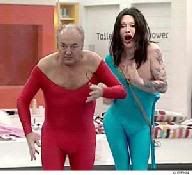 Now George Galloway is set to attract further derision after performing a dance routine on Celebrity Big Brother - in a tight-fitting, red leotard.

The Respect MP, already under fire for taking part in the show instead of representing his constituents, ad-libbed a dance routine for his latest stunt.

His dance partner was, of course, Pete Burns. The transvestite lead singer of 1980s band Dead or Alive wore a blue leotard, even though he insisted he would not run from a burning house in it.
---
Tim Russert and Arianna Huffington In a Snit
Indeed one of the more delicious stories in the political spectrum involves political pundit turned blogger Arianna Huffington and Meet the Press commentator Tim Russert.