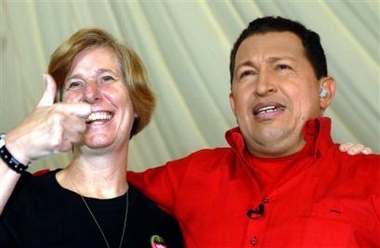 It seems like Venezuela has become a mandatory stop on the far-left fellowship tour. You're just not legit as a socialist extremist unless you stop in to see Hugo Chavez and engage in a little orgy of anti-Americanism. Moamar Qaddafi, Jimmy Carter, Harry Belafonte, Jesse Jackson, Saddam Hussein and countless lesser dictators, marxist dinosaurs and mush-headed entertainers have made the pilgrimage to Caracas to pay hommage to Chavez who they seem to greet as the second coming of Che Guevara or Simon Bolivar. Now these august ranks have been joined by Cindy Sheehan.
Sheehan went to Caracas to speak at the World Social Forum, an annual meeting of socialists, anarchists and anti-globalists which some have characterized as an ideological successor to the Communist International.
Sheehan and Chavez made joint appearances with much hugging and Bush-bashing. Chavez had Sheehan as a guest on his weekly radio broadcast and Sheehan invited the Venezuelan dictator to join her at her next vigil outside of the Bush ranch in Texas, where he leeringly suggested that they could share a tent.
Chavez urged Sheehan to run for President of the United States, not just against Dianne Feinstein for the Senate in California. She smiled when he said "Down with the U.S. empire! It must be said, in the entire world: Down with the empire!" Sheehan thanked Chavez for "supporting life and peace," and said that she agreed with Harry Belafonte when he called Bush "the greatest terrorist in the world." She announced that "George Bush is responsible for killing tens of thousands of innocent people."
Also appearing with Sheehan and Chavez at a rally was Elma Beatriz Rosado, the widow of Puerto Rican revolutionary Filiberto Ojeda Rios who was killed at the age of 72 during an armored car robbery in Connecticut. Rosado accused the United States of murdering her bank-robbing, terrorist husband and Chavez agreed "They murdered him. Viva Filiberto!... Let's follow his example."