For those of you who do not know, Ashley Tisdale is one of the hottest teen stars on the Disney Channel where she stars in The Suite Life of Zach & Cody. In addition she starred in a movie called High School Musical which got the highest ratings ever on the Disney Channel. Like other Disney stars before her, Ashley has recently broken into the music business in a big way, releasing her debut album Headstrong. Two songs from that album debuted on the Billboard Top 100 Hot List. She is a star on the rise and I hope she sees all of the success of Christina Aguilera without any of the Jerry Springeresque weirdness of Britney Spears (two other former Disney stars).
The other day my friend Elizabeth Seward called me with some Ashley Tisdale news. Elizabeth is the lead singer of the New York City-based indie rock band Devola. In addition to her duties with the band, Elizabeth has been promoting musicians. Her website, Cartoon Doll Emporium, is devoted to things that appeal to the tastes of 6- to 16-year-old girls. It has a large collection of cut-out dolls (generic, anime, and star patterned) along with their clothing, games, chat, and numerous other features. She gave me the scoop on the latest news from the site during our conversation.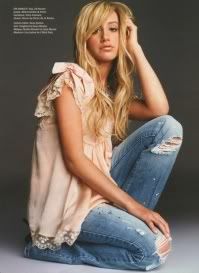 Hi Elizabeth! Can you give me an update on the most recent music news from that site that you've been promoting?
I would love to do just that! Our most recent news is actually incredibly exciting for all of us working on CDE. Ashley Tisdale, one of the most recent pop stars birthed from Disney and a favorite amongst our visitors, will actually be chatting live on Cartoon Doll Emporium on April 2 at 6 PM. Anywhere from ten to twenty contest winners will get to chat with her, asking her questions that they choose. I think this is an awesome opportunity for her fans!