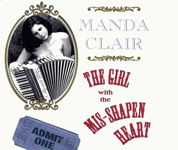 When the Web fumbled past its infancy, I immediately saw the potential. That's right, instead of begging and pleading for answers in my favorite Usenet newsgroups, I'd be able to get answers via Altavista. No longer would I have to wait to find out, for example, the name of the original guitar player in Yes. Oh, the future looked bright!
The thing is, it turned out to be so much more than that. But honestly, how could I know?
Three years ago today (give or take), I started writing this column for Blogcritics. Given my complete immersion into music, it seemed only natural to share my little weekly ritual. A guy wakes up on Friday morning and picks a chunk of music that fits in with recent goings on. I wanted it to illustrate the importance of music on a personal level. It's not just entertainment. It's not just product.
Again, the idea leapt far ahead of my expectations.
I don't mean that in an ego-driven "Whoa...I rock!!"-kind of way. What has happened over the last three years (and 150-some odd Fridays) is that I've discovered that the "fantasy writer" in me, the one that was just a part of daydreams and lost afternoons flipping through old copies of Downbeat, Creem and Rolling Stone...is a real person. A person who is determined to take this writing thing forward. It's a scary thing, but that won't deter me.
Now, alla that hooey being said...what the heck am I going to listen to this morning?
There's no use trying to come up with a 'composite' record. As far as I know, there are no jazz/rock/hip-hop/metal/soul/country/experimental/blues/ambient/folk/percussion records out there. I suppose Beefheart's Trout Mask Replica comes close. (Go ahead, try to categorize that record. Don't hurt yourself!)
No. How about something completely different? An artist you've never heard of? So be it.
Manda Clair Jost is a friend of a friend of mine. I've never met her, though we have flung a couple of emails, usually along the line of "When the hell is she coming out with a new record?!" She's a true Renaissance Woman: college professor (microbiology and other icky stuff), antique motorcycle aficionado, roller derby scrapper (playing Derringer of the Honky Tonk Heartbreakers, and musician.
If Kathleen Brennan is Tom Waits' soul mate, then Manda Claire is his long lost sister. I can imagine them both combing through a pile of scraps at a junk yard looking for a piece of metal that'd make the perfect 'cloink'.
It took me three damned years to let you all in on this recording. Sorry about that.