Laney told me that the Rock N' Dolls are only about four months old now and already many exciting things have happened for her. When she originally had the concept for the Dolls she was fortunate enough to have found a business advisor/partner and once she teamed up with him the ball started rolling. They put on one of their first shows, which I attended, at the Delancey and the featured acts were what about frank, the Low Flying Jets, Me Talk Pretty and Situationist International. I need to write more about all these bands but have previously reviewed Me Talk Pretty which was the act I went to see that night. These bands were all serious talent and I think it was amazing that she pulled that show together at the outset of her adventure into the business world. It was at this performance that she debuted the Dolls in their full groupie regalia and tested her theories of rock promotion. At that performance and after it at the party that followed on the third floor of the Delancey, they filmed the promotional DVD which you can view a clip from here.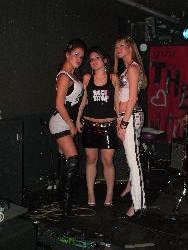 A few weeks later I sat down with Laney at the coffee shop she used to work at and talked about the Dolls. She was dressed in an old t-shirt and a pair of jeans. I wasn't used to seeing her look so "normal" and thought to myself that it was like seeing Superman without the cape. At any rate, as we talked we sipped on coffee and grubbed out on chocolate chip cookies. Laney explained how the Dolls were started and where they were going. She said that there was a merger in the works between the Dolls and a New York City-based record company in order to allow the two to exploit their respective assets to their mutual benefit. She was enthusiastic abut this merger of resources but asked that I not name the record company as the arrangement was not finalized when I talked to her.
The development of this venture has been fast enough that Laney says it keeps her head spinning just trying to stay on top of it all. She initially had two other girls working for her and is now up to around five. She runs the show though and likes it that way. She told me that she is considering branching out into other areas besides NYC and that there is an open recruting/casting call out for girls (at least 21 years old) who might want to live the rockstar lifestyle as a Rock N' Doll.