And now, an ode to one of the most unusual — and powerful — songs from the 80s: Robbie Robertson's "Somewhere Down the Crazy River."
1987 saw the release of Robbie Robertson's long-awaited, self-titled solo album. Robertson had, in fact, waited 11 years after the breakup of The Band before emerging as a solo artist, and Robbie Robertson represents some of his most ambitious work. He chose producer Daniel Lanois, who was enjoying a hot streak crafting U2's and Peter Gabriel's blockbuster albums (The Joshua Tree and So), to help him forge a newer sound. Indeed, the first single, "Somewhere Down the Crazy River," remains one of Robertson's most offbeat — yet oddly sensual — songs to date.
Admittedly, Robertson possesses a limited voice range in comparison to Band-mate Levon Helm; therefore most of the song is spoken-word, with Robertson singing only a few lines of the refrain. Wisely, he recruited BoDean's front man Sammy BoDean to provide subtle vocals to the chorus. Over a slinky, almost middle eastern beat, Robertson narrates a story about meeting an apparent old flame in the desert. "The distant red neon shivered in the heat / I was feeling like a stranger in a strange land / You know where people play games with the night," he rasps.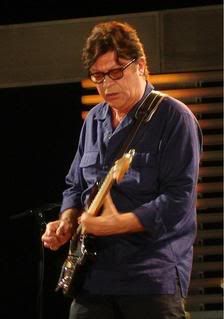 After meeting the woman in a run-down café, she asks him why he always ends up meeting her there. "I don't know, the wind just kind of pushed me that way," he replies with a slightly sarcastic tone.
The refrain then arrives, Robertson's gravelly voice surprisingly effective in conveying the laziness and starkness of the atmosphere. BoDean's higher voice contrasts with his, echoing the phrase "somewhere down the crazy river."
The second verse paints a vivid picture of the scene, Robertson's words creating a clear visual:
Take a picture of this