Before the self-empowering artist that is india.arie, there was Des'ree.
The British-born soulstress first experienced success in the U.K. with "Delicate," a duet with Terrence Trent D'Arby, in 1992. The song barely reached the charts in the U.S., but all that changed with her 1994 album I Ain't Movin'. "You Gotta Be," a single filled with uplifting, encouraging lyrics ("You gotta be bad/You gotta be bold/You gotta be wiser"), made a splash on VH1 with its eye-catching video. Featuring multiple images of the singer, the video intended to show different emotions and moods of a woman, Des'ree said at the time. Her hit landed her the opening act slot on Seal's world tour; at the time, he was riding high with "Kiss from A Rose," thus gaining her great exposure.
Unfortunately, Des'ree failed to score another major hit; though she continues to release albums, none have reached the success of "You Gotta Be." Her blend of R&B, rock, and world sounds, accented by her smooth but emotional voice, still struggles to be appreciated by a larger audience. Listen to I Ain't Movin' and reintroduce yourself to her beautiful music.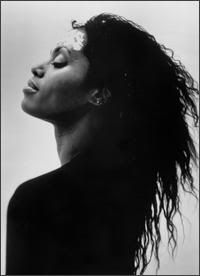 Along with "You Gotta Be," the album contains some powerful songs. The midtempo "Crazy Maze" chronicles a woman's struggle to cope with difficult, busy times: "Cause we´re living, we´re living in a crazy maze/And we´re fighting, we´re fighting to rise above the haze," she sings, intricate percussion punctuating her vocals. "Living in the City" touches on the same themes, but at a faster pace. She also sounds more optimistic in the lyrics: "The sun is winking at me, giving me the eye/There's no better place to watch the time trickle by," she croons, describing various scenes of city life.
If there are any doubts that Des'ree cannot sing funk, she puts them to rest with "Strong Enough," featuring a scratchy guitar and strong beat. The soaring "Feel So High" may have puzzling lyrics ("I feel so high, when I'm touching your sky"), but the slinky beat and her simple vocalizations rescue the song from being a poetic jumble.
Perhaps the centerpiece of the album is the title track, where she defiantly claims pride in who she is: "Why should I hide? / Why should I be ashamed? / Time is much too short to be livin' somebody else's life / I walk with dignity, I step with pride."