The Quickies columns have been settling into a theme of late, a theme of pimping obscure jazzers, especially whack jazzers. Hey, I can do nothing but that for years on end, but then I'd be skipping over some albums worthy of salute that come from the more mainstream side of music. By "mainstream," I don't mean I'm gong to be chatting up the latest Rick Springfield or Miley Cyrus record, but nonetheless, names everyone has heard of. You're most probably well aware that these names have new records out.
Here are some releases of the last couple of months by living legends who after all these years are still putting out quality product. You can safely add any of these to your record collection and impress your friends without getting those "who in the hell is that?" looks on their faces.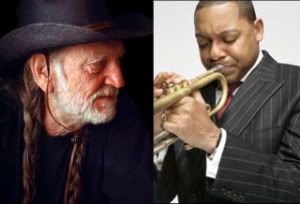 Willie Nelson & Wynton Marsalis Two Men With The Blues
A country music icon teaming up with a jazz icon would seem to most to be an even stranger pairing than, say, a heavy metal icon with a bluegrass icon. But followers of both Willie Nelson and Wynton Marsalis would know that there's hardly anything unnatural about these two teaming up to make music together. For the red-headed stranger is no stranger to the blues; he even made all-out blues record back in 2000 (Milk Cow Blues) and most of the songs were rendered in the graceful, blues-jazz style of Bessie Smith, or more recently, Eddie "Cleanhead" Vinson. Better yet, go back to 1978 and his landmark re-imaginings of classic jazz standards on Stardust. Nelson even guested on a Herb Ellis record saluting Western swing as a session guitarist without sounding out of place.
Marsalis, on the other hand, has long been a keeper of the flame of old-timey jazz, including from the time when the lines between jazz and blues were still blurry. He adores the same old classic tunes that Willie does, and loves to render these songs with a strong sense of swing that strangely fits well with Nelson's nasally, singular vocal delivery.
Captured live over a two-night gig at the Lincoln Center, it was the perfect setting; great acoustics, and no studio rehearsal was needed to play songs these guys know so well anyway. Wynton's band is supple, tighter than a drum, and swings as hard as Count Basie when called upon. Nelson gives them plenty of space to strut their stuff, too. At the same time, the old cowboy is in charge of things, delivering his lines stubbornly in his own relaxed, slightly melancholy way. But then again, his own way usually transcends whatever setting is presented to him. By the way, if you liked "Rainy Day Blues" and "Aint' Nobody's Business" from Milk Cow Blues, wait until you hear it with Marsalis and his crack band backing him up. Moreover, if "My Bucket's Got A Hole In it" doesn't make you nod and grin, you're lacking a pulse.