For this episode of Quickies, we stick mainly with the jazz genre with a couple of diversions to other styles found here and there. These new releases all start with traditional jazz, but our protagonists each put their own little twist on it.
Our first entrant is a well-known quantity in jazz circles and I've even alluded to her on other people's reviews in the past. The last two aren't as familiar sounding but are no less talented. And both have cinema on the brain.
We'll start this Quickies with the more familiar one...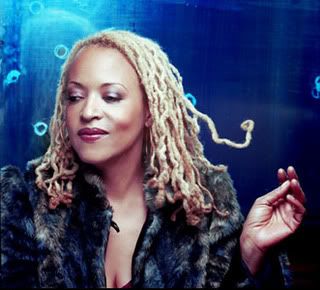 Cassandra Wilson - Loverly
Cassandra Wilson is regularly categorized as a "jazz" singer, but since 1993's Blue Light 'Til Dawn, Wilson has been just as likely to delve into the blues, folk, country, pop and even a bit of hip-hop. Her deep, smoky voice already makes her a bit distinctive amongst so-called jazz singers, but she's always been more interesting when she steps outside that stereotype and tackles standards of all styles with originality. Much as Lizz Wright is prone to do.
After 2006's dabble into loops and programmed drums on Thunderbird, Wilson more or less returns to her regular self for Loverly. All but one tune are jazz or blues standards. But this is a slow starting record; the first three tracks are straightforward renditions where Wilson appears to be just going through the motions.
Beginning with "Gone With The Wind," though, it begins to get more diverting; the samba approach on this selection works well. "Caravan" brings the musical journey from Brazil to Cuba. Coupled with Marvin Sewell's 12-string, "Spring Can Really Hang You Up The Most" is given the Tuck and Patti treatment. Robert Johnson is also covered by Wilson, with a sassy, spirited rendition of "Dust My Broom."
Perhaps the common element across most of the selections is the organic, imaginative West African rhythms employed to propel these songs beyond run of the mill covers. The lone original "Arere" seems to be built entirely around such a rhythm that's particularly spellbinding.