C-86, the latest controversial Canadian legislation bill? No, that's C-38.
C86 is a genre of music. That and a famous NME (New Musical Express) cassette. The genre is indie. More precisely, it refers to mid to late 80s and early 90s British indie pop that was generally"twee" (think Scottish group Belle & Sebastian for definitive twee). Although most tweepop groups grow from c86, the c86 genre is arguably identified as jangle pop. This was a British movement, but there were many American and Canadian bands that were also c86 like Velocity Girl (Which takes its name from an original C86 track) or Jale. The original movement is now almost as old as a lot of the people reading this, yet it still holds a place of importance in contemporary music beyond being mere reference fodder for indie elitists. Its pop-culture relevance has only become more apparent in the last year. Look for the influences of all those bands you or your little brother is rocking out to on the OC, and you'll invariably find yourself back at C86.
But wait, didn't I say something about a tape? You got me. C86 is a literal abbreviation for Cassette 86, which refers to a tape given away with the then 34- year-old NME magazine in, unsurprisingly, 1986. NME was perhaps beginning to feel old and listless but, rather than focusing only on the biggest possible bands and celebrity gossip as with its (then 24 year old) cousin, Rolling Stone, NME decided to try something new.
"We [tried] to invent an alternative scene - our own version of punk you could say - by forcing a coterie of new bands onto a cassette called C86. It's not entirely convincing and you should get out more if you remember The Shop Assistants - but it nails our colours to the mast. We, it said, for better or worse, are indie."
The Cassette featured exclusively independent artists, most of whom were not hugely popular at the time. While C86 came to be a genre rather than a literal tape, some of the bands on the original compilation were neither janglepop nor twee (ie. not all the bands on C86 were C86). Examples being Primal Scream's Velocity Girl or Stump's "Buffalo". Regardless, C86 was the cassette that launched a genre (rather than just recognizing one).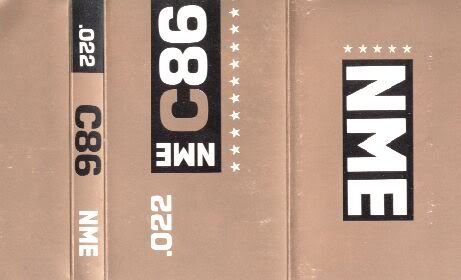 Says the freakishly well-informed uao of Freeway Jam, "C-86 was an extraordinary release; most of the bands had been unknown prior to its issuance, but taken together they resembled a scene. Almost every one of the groups that appeared on C-86 were short-lived, but in their wake, newer indie bands on both sides of the Atlantic began experimenting with this airy, tuneful style."