Like many Chapman tunes, the simplicity of many of the tracks presented here are deceptively so and the soul of these songs reveal themselves over several listens. At the same time, a few Chapman songs hit the bullseye right form the start. For this CD, it comes right at the beginning: "Sing For You" is an utterly sunny, singable ditty reminiscing about serenading radio songs to a loved one. Chapman even adds wordless "doo-doo-doo's" that along with a pump organ emphasize the easygoing flow of the song.
Chapman also deals with matters of the heart with the contemplative "Thinking Of You," and the gentle country-soul of "A Theory" and "Conditional." Salvation and the belief in a one true religion are cleverly examined on "Save Us All" with sharp lines like "But if pride goeth before the fall/I hope someone's God will save us all."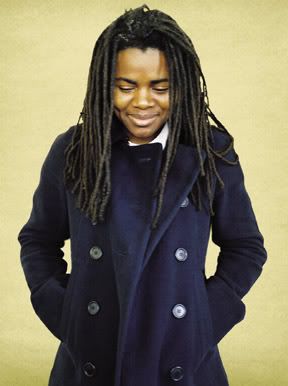 But social concerns as seen through liberal lens have always been Chapman's bread-and-butter topic and those type of songs make up some of the strongest tracks of the album. The title track poignantly questions the point of war, while "Something To See," imagines a world without it. "The First Person On Earth" offers sympathy for those victimized by natural disasters, as a ghostly sounding violin occasionally underlines the anguish.
Tragedy at the more personal level is examined on the sweet, soulful "For A Dream." As she did so effectively on "Fast Car," Chapman's narrator clings to some small consolation and hope as the only way to deal with an emotional pain.
Much as "Give Me One Reason" was that odd, out-of-place song on New Beginning (1995), this record's curveball comes in the form of a cabaret, "I Did It All." A parody of the type of person who thinks his/her life is more scandalous than it really is, Chapman's sweet vibrato is, come to think of it, the perfect voice for a song that mimics the lounge music of the Jazz Age.
Twenty years later, Tracy Chapman's music has shown little growth or change, but so what? She presented music that was fully realized at the start. The best route to go from there was to fine tune an already winning format. With the help of a sympathetic producer and crack session players, Our Bright Future has the goods that Chapman's listeners are looking for and perhaps a little bit more.