The odd-metered "Daze" has that same quality, too, but alternates with a more conventional, rock-based chorus. It's a mashing of two styles that melds together so well, it's not even noticeable.
"JWS" (see video below) is a sublime gospel-folk tune which Waldorff is content to let McCaslin take the lead duties and the saxophonist understated work fits the mood. But this is also a showcase for Yahel; his perfectly calibrated organ swells that give the song a huge boost show why he's one of the best organists in the business today and his solo is the right mixture of church and grease.
"Expresso Crescent" is an airy combination of Pat Metheny and straight bop and a fine showcase of what the players can do in a more conventional format. McCaslin in particular burns on this track but knows to avoid going over the top. "Skyliner" has some European qualities to the chord structure while being married to a rumba style beat.
Big band arranger/composer/leader Maria Schneider's "Choro Dancado" is covered here, which even as it's a scaled down rendering, still exudes an orchestral eloquence.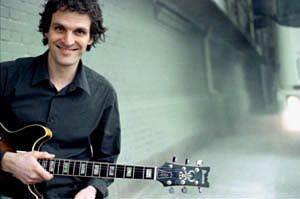 "Heimat," perhaps my favorite selection on the album, is a slowly unfolding tone poem that paces itself naturally. Yahel's electric piano is as thoughtful as the effort he puts into his organ playing while Waldorff's supplies an eloquent solo while Wikan's sympathetic mini-fills accentuates to perfection.
"Eel Thye Deeflat" is slower-paced still, with a chord progression that is similar in style to some of Michael Brecker's ballads, but with a looser conveyance. The album concludes with Wikan's own "Man In The Black Hat" is darker, bluesy jazz that has interesting intricacies that serve make it more than just blues. McCaslin again rips on his solo turn while Waldorff provides stark relief with angular, pensive soloing.
Afterburn is one of those rare ones that does a great job combining musicality and technical eminence without compromising either. It's a real triumph for Torben Waldorff, and only enhances his standing as a composer, guitarist and bandleader of much distinction.