What makes the holidays special? Traditions such as hanging ornaments on the tree, sipping cocoa, and opening presents come to mind, but another can be added to the list: listening to A Swingin' Christmas by Tony Bennett featuring the Count Basie Big Band.
A Swingin' Christmas marks Bennett's second foray into holiday music, the first being Snowfall over 40 years ago (subsequently reissued). While the album may be new, it delivers exactly what Bennett fans expect: classy arrangements, superior musicianship, and of course Bennett's impeccable phrasing. Once again helmed by Duets: An American Classic producer Phil Ramone, the CD features 11 classic Christmas carols sure to please everyone.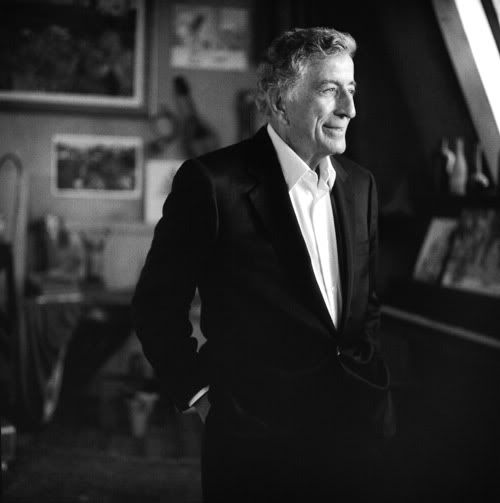 Highlights include "Winter Wonderland," where Bennett joyfully croons over the Basie Big Band's swinging horn section; " "My Favorite Things," a jazzy rendition driven by a walking baseline and sprightly piano; and "Santa Claus Is Coming to Town," with Bennett cuing the band by enthusiastically shouting "here he comes!" before the various solos. "Silver Bells" benefits from an uptempo arrangement leaning much more toward traditional jazz than Andy Williams' famous version.
As usual, Bennett also shows his affinity for romantic ballads — his performance on "All I Want for Christmas Is You" (not to be confused with the Mariah Carey holiday hit) illustrates his gift for phrasing, as if he is seriously considering every word he sings. "Have Yourself A Merry Little Christmas" showcases his minimalist singing style, teaching singers over half his age a lesson about not using vocal acrobatics to communicate a song's message. Beautiful guitar and piano solos from the Basie Big Band help give "The Christmas Waltz" a dreamlike quality. In other words, Bennett's new release deserves a place on the holiday music shelf right next to with Frank Sinatra and Nat King Cole's revered Christmas albums.
With A Swingin' Christmas, Tony Bennett once again cements his place as one of the greatest vocalists in pop music. Pairing him with the Count Basie Big Band is an inspired choice, as excellent musicianship compliments his voice even more (for more evidence of this, listen to his recordings with the Ralph Sharon Trio). Whether you're trimming the tree or throwing a holiday party, play this CD for an instant dose of Christmas spirit.
For more information, check out his official site and YouTube page. To learn more about his other talent, painting, visit his artist site.