Out of the thickets and marshes northeast Florida from which Lynyrd Skynyrd and Tom Petty & The Heartbreakers were spawned comes another group bringing a different take on the great music of the South: the trio that calls itself Swamp Cabbage.
Swamp Cabbage is the creation of Richie Havens sideman Walter Parks. Parks, who still gigs with Havens as his lead guitarist, formed this nimble little threesome to fill up his downtime when his folk-rock legend boss isn't touring. He formed his diversion with the help of only two others; Matt Lindsey on bass and Jagoda — yup, that's a one word name — on drums.
But make no mistake, Swamp Cabbage is no toss-off idea. Sure, they possess all the looseness of guys getting together on their wind-down time, but they are also very serious about spreading the gospel of blues, vintage jazz and country. While The Drive-By Truckers owe much to the more famous Jacksonville-born acts, Swamp Cabbage prefers to go further back and farther out in their roots.
And so even though Swamp Cabbage is nominally a "rock" band, this is a band that embraces a wider variety of Southern music: from the organic blues/rock of early ZZ Top to the New Orleans funk of the Meters and even a dash of Dixieland jazz. And it's all done with a dash of humor and an enticement to a wood-slatted dance floor. As Parks describes it, "Northeast Florida-style, fatback, boogaloo blues stirred into a gumbo of Louisiana ragtime."
Anybody's who's ever heard Papa Mali And The Instagators knows what we're talking about.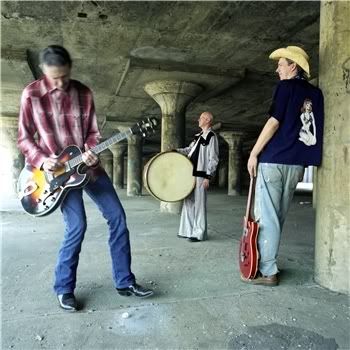 Today, their long-awaited followup to the 2004 debut Honk hits the streets and Squeal shows no letdown in this erstwhile combo's ability to deliver feel-good music.
The first couple of tracks create the impression that this is going to be a collection of lost cuts from Tres Hombres. "Jesus Tone" introduces Parks' slurred growl that sounds like a dead knockoff of Billy Gibbons, along with Gibbons' fat-tone guitar. Even the lyrics could have easily been something dreamed up by the Three Wise Men of Texas:
I can't play the guitar without Jesus Tone
I don't even wanna bother strappin' it on
Without the Jesus Tone I might as well go home
The preacher got a pulpit and his microphone
I just need my guitar and my Jesus Tone