When considering the history of Genesis, most fans tend to view this band through two distinctly different prisms. For these folks, the "Gabriel" and "Collins" eras exist as polar opposites - light years apart artistically (and certainly commercially).
Two different bands, representing approaches completely independent from one another.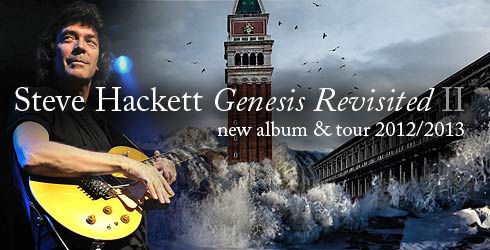 This rear view appraisal, though in some ways unfair, is also dead-on accurate. The eighties pop-rock, MTV video darlings led by drummer/singer Phil Collins that sold albums by the truckloads, bares so little resemblance to the artier, trailblazing prog-rock of the earlier Peter Gabriel model, as to be virtually unrecognizable as the same band.
But where these same two opposing - and equally vociferous - camps of Genesis fans most often miss the point is in identifying just where the division between the "prog" and the "pop" incarnations of Genesis actually took place.
The departure of Peter Gabriel after the tour behind 1975's The Lamb Lies Down On Broadway is most often cited as the breakaway point. But the truth is, Genesis made at least two recognized prog-rock classics (A Trick Of The Tail and Wind And Wuthering) during the post-Gabriel years.
Then guitarist Steve Hackett left.
In retrospect, Hackett's split from the group was what really cleared the decks for Genesis' subsequent musical shift towards commercial pop - much more so than Gabriel leaving them behind ever did. Hackett's own post-Genesis career has had its own share of creative missteps of course (GTR, anyone?).
But on the bulk of Hackett's solo material over the years, his aim has remained mostly true.
Simply put, and even though he is largely unrecognized as such, Steve Hackett is one of the most underrated guitar players on the planet. For proof of this, one need look no further than his work on those original Genesis albums, and on early solo recordings from the same period like Voyage Of The Acolyte and Spectral Mornings.
From the quiet, acoustic understatement of "Blood On The Rooftops," to the crying sustain heard during the closing section of the epic "Supper's Ready," Hackett's guitar playing with Genesis, though often overlooked at the time, was an integral component of the many elements which made up the band's densely layered sound.