Funny what an early end does to a legacy.
Doomed geniuses are always better off, accolade-wise. They make their mark, even if it is ever so fleeting, and that moment is examined by fans-turned-archaeologists for generations.
Pity the poor soul, then, who keeps at it. Who remains vital, unparalleled and upright.
Jazz saxophonist Sonny Rollins is that man.
Rollins, still out there playing, has kept at it — touring incessantly, looking for that perfect note, neatly blending the concepts of show and seance. Yet, until this week, precious few of his more contemporary moments had drifted out beyond the walls of those concert halls.
Until now. Seems Rollins had been dragging along some recording equipment. As many as one third of the approximately 600 shows he'd done since the late 1980s were suitable for release, free of either legal entanglements or unforeseen technical issues.
This 2006 set in Toulouse, for instance, stuck in Rollins' mind — after all, he'd thought to include "More Than You Know" for the first time since recording it with Thelonious Monk in the 1950s. There was also that stuff from a year later with bassist Christian McBride and drummer Roy Haynes, done at Carnegie Hall as part of his 50th anniversary concert, from which Rodgers and Hammerstein's "Some Enchanted Evening" is culled.
Together, they make up the cornerstones for "Road Shows Vol. 1," a new compilation of rare Rollins sides put together by the tenor man for his Doxy label. A notable trio of cuts also come from collector Carl Smith's archives, including 1980's "Blossom," a little known original, and a 1986 version of "Best Wishes" from Tokyo.
Rollins also unveils an hour-long 2006 festival performance, captured by a French television crew, that nicely highlights both his searing on-stage brilliance but also some revealing behind-the-scenes moments. That became the "In Vienne" DVD, issued simultaneously with "Road Shows Vol. 1" on Oct. 28.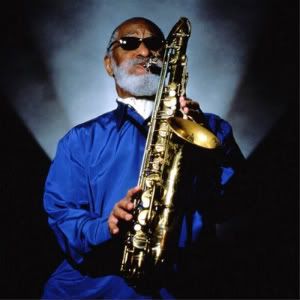 These releases, the first in what promises to be a series of dusted-off gems, underscore not only the dominance of Rollins as jazz's most important living saxophonist — but also of the music's ability to transform itself concert after concert after concert in the hands of a peerless innovator: "A different sunset every night," Rollins once said, "that's what jazz is about."