Transitory leaves the lion's share of the solo space to Mariano, but it's a collective feel, nevertheless. The sprightly "Epoch" kicks off the session, where group shows right off that they're not sticking to the common jazz-rock script. While "Epoch" stays on course with it's steady rock beat, the improvisational passages nearly veer off into free jazz territory. The solos begin with a burning alto sax solo by Mariano that shows he means business. Van't Hof follows on electric piano that's every bit as creative as what Corea and Hancock were doing at that time.
"Epoch" suffers a tad from a tinny sounding mix (as does the ironically titled "March Of The Oil Shieks" that ends the album), even if they are good tracks. Thankfully, though, the rest of the album didn't have even that minor flaw. Incredibly, everything within the bookmarks has dated hardly at all.
Much of the credit for Transitory's overall timeless quality goes to the leader. Van't Hof refrained from using synthesizers, overdubs and too many keyboard effects that were become increasingly popular in fusion by this time. The eulogistic "Transitory 1" and "Transitory 2" demonstrate how just van't Hof, Mariano and Jenny-Clarke (on cello) were able to approximate a symphonic sound with a remarkable resemblance.
"Angel Wings" is Catherine's composition and is the only real showcase for his soloing talents. Sounding very much like a classic Ponty fusion tune, Catherine provided a inspired, concise, well-constructed solo that set him clearly apart from the other jazz-rock guitarists of the mid-seventies.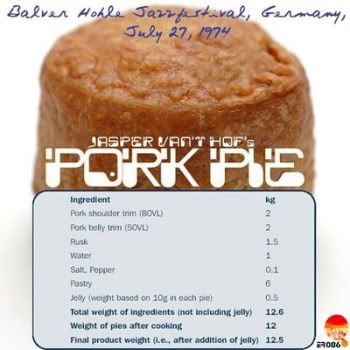 The brief "Something Wrong" refers to it's deceptive, odd metre count which despite the tricky time signature, still manages to sweetly swing. The two-part "Bassamba" is first a full-on display of Jenny-Clarke's bass soloing prowess over a samba beat. Eventually, the song transitions over to a collective samba rhythm by the whole band on top of which Mariano expertly plays his alto sax. It's a samba done in a more contemporary fashion without losing any of the spirit of the more traditional, acoustic samba.