A funny thing happens at the beginning of Mariah Carey's latest album. Beginning with a freakish shriek, she opens E=MC2 with a run of high notes in an almost self-mocking fashion. To emphasize this caricature, the high notes turn into the backing track for "Migrate" and form a rather accomplished duet with T-Pain.
Such is the method of Mariah's eleventh studio album. She fundamentally follows up on the pattern of 2005's The Emancipation of Mimi, but doubles up on the self-awareness to put out a rather capable pop album. She even taps into the text message and YouTube generation with unrepentant joy.
"Touch My Body" is her eighteenth number one single. It's a sexy and slinky track that has all of the noteworthy Carey-isms, including her ability to nail the higher registry unlike any other. It is her knack for quickly blasting through the higher notes and firing off lines in quick succession during the verses that transforms this potentially weak tune into a catchy single.
Part of the knock on Mariah is the conception that her emotional relationship with the songs is often lacking. This is a fairly solid critique, for the most part, and most of E=MC2 reaches into party-pop territory with no regrets. Like Kylie Minogue, Mariah's music isn't so much about emotional connections a la Mary J. Blige.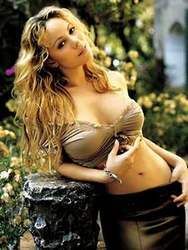 It's more about the bounce.
That bounce is immensely present on tunes like "Cruise Control," where the addition of Damien Marley makes the song a skilled Jamaican jam, and "I'm That Chick," one of the album's best tracks. These are precision-tooled songs just begging for night cruising.
As is usually the case, Mariah slows things down and attempts introspection with songs of love lost. "I Stay In Love" is Carey's bread and butter, a piano-driven ballad with plenty of fluttery vocals. "Love Story" has a similar feel, but is mostly overproduced to bewildering levels.