"Belle" is another tune that starts off slow and gradually gains traction. Christensen is the key component here. His careful control of tempo does as much to establish the song's personality as does the folk-like melody. It's why he's such an underrated drummer. Rava again puts on a clinic with steady tremolos and fragmented phrases. Abercrombie's solo is full of unconventional ideas that straddle the line between rock and jazz. And Danielsson is just superb with a solo of great range while staying well grounded to both the rhythm and the harmonic progression.
"By The Sea" is another notable track for it's dark, minor-chord mood accentuated by Abercrombie's high-pitched guitar notes, which at times follows the bass-stated theme many octaves above.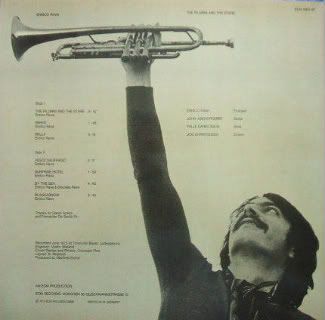 The extended intro of "Blancasnow" flows freely rhythmically, as Rava's forlorn horn rides on top of the turmoil produced by his band. About two thirds in, it settles into a comfortable, mid-tempo groove.
"Surprise Hotel" is balls-to-the-wall free jazz that's so highly caffeinated it lasts less than two minutes. Before it cuts out abruptly, Rava and Abercrombie are imrpovising simultaneously while the rhythm section sounds like a thundering horde.
The "fifth" musician for this record was producer and label founder Manfred Eicher. While he continues to helm pristine recordings to this day, the seventies ECM records are generally warmer sounding and employing a touch more reverb, making the lead instruments sound desolate and eloquent at the same time. Rava's trumpet in particular benefits from this effect.
The Pilgrim And The Stars rightfully belongs in the canon among the most memorable ECM releases. It's a uncompromising blend of Euro-jazz and American hard bop that launched the reign of one of Europe's finest jazz trumpeters.