From the God Of Hellfire to an Angel Of Love?
That one-hit wonder from 1968 who brought us that singularly psychedelic, bombastic classic "Fire." Brown had been mostly out of the public focus since then, but one of rock's most flashy and colorful characters never faded. Nah, he was merely obscured.
The Crazy World Of Arthur Brown neatly encapsulated the boundless possibilities in rock that seemingly everyone was doing in the late sixties, but Brown did it with more flair than anyone else. The next few years, he kept expanding the boundaries with some forward-looking prog rock records leading a new band, Kingdom Come, but by then, his over-the-top tendencies that endured him to many in the beginning turned into a liability in the laid-back seventies. Thus, a followup hit never materialized.
Brown's later career that took him from a notable cameo appearance in the movie Tommy to painting houses in Austin, Texas with ex-Mothers of Invention drummer Jimmy Carl Black. After so many paradoxical twists and turns in his life, he's back with a record that shows that the "fire" for music still burns in his belly, if not from the helmet crowns he used to wear in concerts opening for Jimi Hendrix.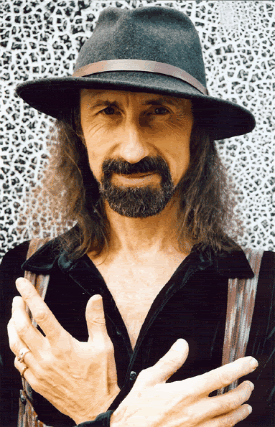 With The Voice Of Love, though, Brown seems to be looking backwards rather than forward, as it comes off sounding more like and old David Crosby record than anything Brown is normally known for. I mean that in a good way, however. The Voice Of Love, officially attributed to "The Amazing World Of Arthur Brown," is a sincere and well-executed effort at hippie folk music.
The silent partner is this endeavor is Nick Pynn, who in Brown's words , plays "every string instrument known to man, some glockenspeil & some vocals, deep, deep bass pedals." Pynn also arranged nearly all the tunes, mostly new originals written by Brown. Electric instruments are barely used, keyboards are shunned and guitar-driven percussion is utilized more than drums, giving this collection a well-grounded feel.