Scott's band for Newport contains members whose highly individualistic styles do much to shape Scott's music and share his desire to incorporate contemporary influences into jazz. His pianist is Aaron Parks, whose impressive major-label debut Invisible Cinema was profiled in this space just a couple of months ago. There's also an imaginative electric guitarist in Matthew Stevens. Joe Sanders handles double bass, and the very active Jamire Williams mans the drums. Parks and Stevens are carried over from Anthem, which is critical since these two are responsible for creating much of the distinctive rock motifs found on Anthem. Additionally, tenor saxophonist Walter Smith III joins the band for most of the eight selections.
The set opens with a new original, "Died In Love," inspired by the murder of a close friend and his new wife. It's a dirge, but one that goes through the range of emotion that one goes through from the loss of a friend. Parks, Stevens and Williams' stumbling drums add dramatic effect as Scott gives a sublimely heartfelt performance.
"Litany Against Fear" is another tense composition of Scott's, and taken from Legend it's arguably his best song from that album. It's here where Smith makes his first appearance, stating the theme with Scott, and later blowing a fiery solo. Parks' familiar, persistent single-note repetitions pace a darkly dramatic beginning passage that alternates with a more affirming chord progression. Stevens is given plenty of solo space and provides some dazzling fretwork (it's even more fun to watch it on the DVD). Scott himself puts on a clinic with a cleanly played tone that trades in fancy trips up and down scales for making each note meaningful. The song transitions into a thematic statement repeated by Parks and Stevens, and, unlike the studio version, the horns join in the statement at the end with Scott adding an exclamation point at close. Great song, great performance.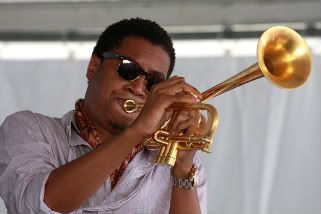 The rest of the set doesn't quite have the intensity of the first two cuts, but are still worthy listens. "Isadora" shows off Scott's ability to render a ballad sweetly without relying on a mute. "Rumor," one of a pair of compositions by Stevens, begins with an extensive, well-modulated drum solo by Williams before he settles into a nice funky rhythm that Scott grooves on top of. "Anthem" features some insanely intricate piano soloing from Parks.