As promised in several of my previous articles, I'm back with the news we've all been waiting to hear. Michael Johns has just confirmed that the first single from his debut album is "Heart On My Sleeve", which will be released on March 31, 2009. Michael says that radio play for the new single should be added the following week. His debut album is titled Hold Back My Heart and will drop on June 2, 2009. You can listen to an interview and snippet of the new single on Virgin Radio 99.9.
So much has happened since the first article I wrote about Michael in July of 2008. He spent a couple of months touring with the American Idol Summer tour, which finished its run back in Sept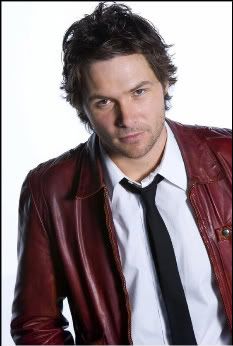 ember of 2008. His travel is as constant now, as is the demand for him to appear at venues across the nation. His popularity and the demand for his music increases with each passing day.
Most of you who have followed his journey since the tour ended, already know what he's been up to. I'll hit just a few of the highlights for those of you that might have missed some of the news. Here's a list of his top accomplishments since September 2008.
In October, he traveled back to his native Australia to perform in his hometown for Perth's Telethon. That same month, he went to the Philippines on his first solo tour playing four different venues to thousands of fans at the Ayala Malls. This is where we first heard of his future gift to charity, which I'll describe a bit more when we get to the month of December.
On November 11, 2008, David Foster & Friends DVD was released featuring Michael as he performed a two-song medley "She's A Beauty/Man In Motion". The star-studded DVD celebrates David Foster's impressive musical career with songs that span his 30+ year history as a hit songwriter/performer. Michael, along with some of the biggest names in the business performed some of those hits at the request of David Foster himself.
On December 9, 2008, Michael Johns did something unprecedented for his first post Idol song release. He gave the entire proceeds of his song "Another Christmas" away to charity. News of that gift was a featured article in BC Magazine's Holiday Special 2008 – Spirit Of The Holidays. You can read the entire story behind the song in 'American Idol Finalist Michael Johns Gives The Gift That Keeps On Giving'.