The Terra Blues is located in the area of Bleeker Street in New York City that is home to some great blues/Funk/Jazz music on a regular basis. I love this place because it is like walking through a door into a different world. The walls and ceiling are painted black and light is provided by many small candles along the bar and on the tables. The walls are adorned with framed photographs of the many blues artists who have performed there. Included in this list is Joss Stone who is rumored to have been in attendance one night and to have gotten up and done an impromptu set with the house band.
Also on the walls, or seeming to grow out of them, are 3D sculptures that just have to be seen. They are made of cloth soaked in plaster or resin and at one moment they look like angels and in another they resemble disembodied spirits emerging from the wall. I thought they were so cool that I got a photo of one of them to share with you (see below). The overall effect of this atmosphere is a sort of ethereal otherworldliness that reminded me of Bourbon Street in New Orleans complete with the sculptures harking to the many spiritual traditions of that area.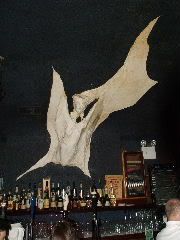 My reason for being there was to see a girl named Acantha perform. Her name comes from a Greek myth. In the myth Acantha is a wood nymph who has a run-in with a god and as a result is turned into a tree. I think the nymph part fits her. Acantha is a Creole beauty, born and raised in New Orleans, and so she almost seems like a natural to be singing the blues. It wasn't always that way though. She said that growing up she had always been aware of the blues but had never seen herself as a performer in that genre. She instead became a model and had success there in her home town. Based on that success she moved to New York City where she again did modeling. Judging by her looks she could have had a great career in that field but she told me that it just didn't satisfy her, it wasn't artistically fulfilling to her and so as an alternative she began to develop her singing talent. First she tried R&B but said that she found that style too rigid and not quite what she wanted to do.