Why, it seems like only yesterday [cue harp and wavy, out-of-focus visuals] when you could pore over an album's liner notes and not have to squint to garner an embarrassment of riches and a treasure trove of tidbits...
Nostalgia isn't what it used to be, Ray Davies reminds us in "Til Death Do Us Part," which kicks off The Great Lost Kinks Album, leaving him in no mood to catch up:
In my little life,
I know that the world must keep on turning,
Even though it leaves me far behind…
A collection of enjoyable but low-key and disheveled outtakes, rarities, and B-sides, mostly from the late-'60s, the LP's 1973 release date instantly pegged it an instant period piece — "Groovy Movies," anyone? — but often refreshingly so, considering the then-encroaching age of hand-wringing soft-rock and cosmic bloat. The Great Lost Kinks Album — much like the previous year's marvelous and somewhat more conventional catch-up anthology The Kink Chronicles — was indeed a Brit-centric treasure trove of provincial pop, trumping more widespread pap and prog.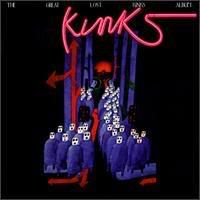 But let's not go too far. Rear-view reflecting is a great thing, but how about myopic hindsight in a house of mirrors, and the dizzying loss of historical perspective it brings? The hit-and-mostly-miss liner notes of Lost, extensive enough to provide a critical and then-updated overview of the group's career, as well as a song-by song assessment of the album's tracks, were written by noted music critic and Kinks chronicler John Mendelsohn. And while the commentary certainly benefits with such literate and expressive writing, it almost seems as if Mendelsohn needs to be dragged out of the Carnaby Street carny kicking and screaming L-O-L-A into the Kinks-sized '70s. "What's clearly amiss with the Kinks since the dawn of the present decade," he hastily sniffs in a comment redolent of redundancy, "is that Raymond D. Davies' songwriting brilliance as a songwriter has greatly dimmed."
A has-been in the course of a mere two years? Let's do the math, and the poetics. First, give Mendelsohn the benefit of one doubt and put the raucous 'n' rollickiing 1970 decade-sitter Lola Vs. Powerman and the Money-Go-Round in the '60's column -- that means the critic is basing his argument on the western-style worthy Muswell Hillbillies, from 1971, and the following year's loopy ode-to-the-road Everybody's in Show-Biz. Mendelsohn's ears weren't attuned to Muswell's affectionate mix of boozy music hall and poignant Americana: "But in her dreams she is far away... With Shirley Jones and Gordon McRea," Davies sings in the exquisite "Oklahoma U.S.A." And instead of acknowledging some of the LP's roots in the Davies brothers' upbringing in Muswell Hill north of London, Mendelsohn bypasses the biographical, asserting that "Ray's treatment of the familiar theme of the old fashioned tradition-cherishing soul's inability to suffer the cruel modern world was largely clumsily heavy-handed and obvious."