Blue-eyed soulster Robin Thicke is currently riding high on the success of his latest album, Something Else. A fun trip through 70s soul, his recent release has solidified his status as an artist who deftly straddles current and retro R&B, adding just a touch of disco.
Before Robin Thicke, however, there was Remy Shand.
Around the same time as Thicke's modest debut, A Beautiful World, Shand entered the music scene with The Way I Feel, a superb collection of blue-eyed soul that paid homage to 70s soul while grounding the lyrics in modernity. Released, appropriately enough, on Motown Records, the album caused a small stir in R&B circles with its authenticity and catchy melodies. As a result, Shand received airplay on BET and many R&B radio stations, and eventually racked up Juno awards (Canada's equivalent of the Grammys) and Grammy nominations. He then promptly vanished from the music scene.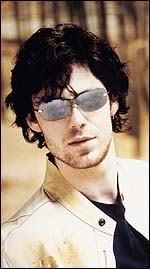 Shand's apparent disappearance has disappointed fans, as his well-crafted debut showed great artistic promise. Born in Winnipeg, his parents home schooled him, and ended up passing on their love of soul music to their son. According to his Motown artist site, after earning his GED Shand played in local experimental rock bands, but his love of artists such as Stevie Wonder, Marvin Gaye, Herbie Hancock, and the Isley Brothers never died. At 19 years old he began composing songs, then started recording and mixing from home. Overall he played every instrument, sang all vocals, and wrote every song that would eventually comprise The Way I Feel. After four years of writing and recording, Shand's album made its way to Motown, who released the project in 2002.
Listening to The Way I Feel resembles taking a journey through soul's rich past; "Take A Message," the first single, features Shand singing in falsetto over a lazy, funky beat. The title track speeds up the tempo slightly, with Shand playing the role of the tender lover: "I know what it takes to make it right for you," he croons, taking a page out of the Teddy Pendergrass songbook. A shuffling beat punctuated by strong bass and a "wah wah" pedal, "Liberate" provides irresistible funk, as does my favorite track, "The Second One," with its scratchy rhythm guitar driving the beat. He also pays tribute to the great "slow jam" tradition with tracks such as "I Met Your Mercy" and "The Colour of the Day."