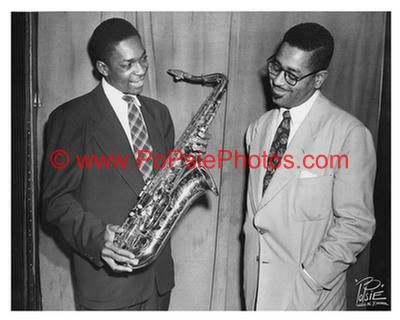 Note: The archives of William "PoPsie" Randolph (1920 - 1978) are being researched extensively for an upcoming book "Photography by PoPsie — The Legend of Broadway".
In a long and prolific career spent haunting the recording studios, jam sessions, concert halls and nightclubs of New York City, Randolph chronicled the raucous postwar transformation of American Music — from swing and jazz to rhythm & blues and rock & roll — more vividly and more avidly, than any photographer of his era.
PoPsie loved Jazz, but he had a real affinity for trumpeters. He himself was a frustrated trumpeter who couldn't quite get his chops down, so he often lived vicariously through those who excelled at the instrument.
One of his favorites was Dizzy Gillespie. Dizzy often was surrounded by the best young talent of the jazz world and at the time of this photo session he was ready to break up yet another band that didn't quite catch on. Gillespie always was ahead of the jazz curve and was often frustrated by indifferent audiences who didn't always quite get "it."
The date of this shoot was January 19, 1951, and at this time his band featured a young saxophonist who had been with a few other bands but didn't quite yet reach his full potential. Dizzy believed the kid had talent and would someday be a star in his own right so he talked PoPsie into getting a few shots with him and the kid as well as a few photos of the kid by himself.
The "kid" later turned the jazz world on its ear and is remembered as an innovator who challenged his audience to get "it" as well. The "kid" was John Coltrane and these photo sessions show him as a young man who was quite happy to get an audience with "PoPsie."
It was a good thing that "PoPsie" loved trumpeters and captured this moment for posterity or we would have never gotten "it".